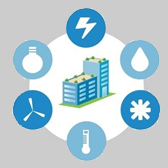 Building automation systems act as the mind behind everything in the building. They are the aspect that orders everything within the building when to turn on and how much power and for how long, just like the brain does to the human body. These systems help automate everything in the building to make it more efficient and secure.
The Market Research Future (MRFR) analysis reports suggest that the Building Automation System Market will record an astonishing Compound Annual Growth Rate (CAGR) of over 10.2% during the review time frame between 2021-2030. Furthermore, according to these reports, the market can grow by approximately $164.4 billion USD by the end of 2030.
Building Automation: The Definition
Building automation includes any procedure, equipment, or technology that allows individual control of the building or property systems from one control system. This can vary from flood safety, security, and mechanical systems for energy utilization, lighting systems, heating, and ventilation. Communicating smartness to such systems may occasionally need the deployment of new hardware, like control systems and sensors. Other times, slight hardware twists and a software user interface can be sufficient. Irrespective of the building's nature, these solutions have goals such as:
Automate building operation systems
Reduce the use of resources
Lower the chances of human error
Create more sustainable and energy efficient buildings
Lower maintenance, operational, and utility expenses
Building Automation: Advantages
Here are certain significant advantages of the building automation systems:
Optimizing Costs
As simple as it sounds, the costs are lowered by reducing reliance on manual inspection and labor. Furthermore, these building solutions also offer innovative appliance monitoring features that can precisely expect before when some equipment may go wrong. Some of these products also help in saving energy.
Building Sustainable Future
These systems make buildings efficient and result in lowered CO2 emissions. For instance, energy management solutions enable you to visualize the building's energy needs, recognize ways of improvement, and then deploy measures to lower energy usage as much as possible.
Building Automation Makes Residents Happier
People across the globe have become more aware of smart technology and sustainability than ever before. As per the survey, over 70% of respondents think smartness and the capability to detect and solve problems rapidly will be "game-changers" building technologies.
Important Intuitions – Anywhere, Anytime
These advanced solutions' cloud-based dashboards offer you access to vital insights, KPIs, and metrics about your building's systems from anywhere and anytime.
Building Automation Solutions: Types
Here are some of the most popular types of building automation solutions:
Energy Management Solutions
These solutions can assist in this respect by gathering energy consumption data from various systems and using various techniques to lower use.
HVAC Automation Solutions
HVACs ingest more amount of energy as compared to any other system. An HVAC automation system incorporates right away with the HVAC, being able to reprogram it on-the-fly. It can switch an HVAC's settings to guarantee an optimum climate and optimize energy utilization.
These solutions offer the capability to monitor your building's lighting with a web application or smartphone. Some of these be associated with motion detection characteristics that automatically turn a light source on/off based on the tenancy of an area.
Market Trends
With the rapidly growing construction across the globe, players across the market are focusing more on developing innovative technologies and solutions. For example, a leader in intelligent power and sensing technologies, onsemi in June 2022, has announced the launch of two complete system solutions helping the most extensively used building automation network conventions –KNX and Power over Ethernet (PoE). The NCN5140S, facilitating the development of access and control panels, is the first System-in-Package (SiP) approved by the KNX Association.
The market has witnessed a massive rise in the number of mergers and collaborations in the last few years. For example, the 75F, an Internet of Things (IoT) building automation leader, and J2 Innovations (J2), an open, intelligent building platform provider, in June 2022, have revealed a collaboration to enhance the energy efficiency of mid-sized commercial buildings.
Future Of Building Automation
The building and construction sector has been witnessing rapid changes in recent times. The industry has faced some paradigm shifts in the last few years because the IoT has picked up significant market share in the construction sector. The world has already seen radical changes in how old buildings are retrofitted and made more intelligent. With the growing number of innovations and investments, the market seems to have a bright future.