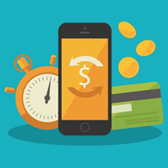 In the previous two decades, technological upheavals have revolutionized the way we interact, chat, buy, and do business. Technology advancements are continually altering customers' expectations of financial institutions and the way such institutions operate. These days, modern technology streamlines procedures and makes them more error-free, enhances customer perceptions and interactions with money.
Technology is altering the financial sector in various ways, from automating time-consuming processes to creating a new kind of currency known as cryptocurrencies. These alterations are broken down into a few broad groups in this article. Throughout each category, we will discuss how technology affects the finance sector and how it will shape the future.
How can Financial Institutions benefit from technology?
Fintech refers to new technology that tries to improve and automate the delivery of financial services, such as how you pay for products, manage your money, and get a loan. Recently, the term "FinTech" has been used to characterize new financial technologies. It involves the use of computer programs and other technologies by financial companies to assist or streamline banking and financial services and is referred to as "informatization." This also includes ATMs and blockchain technologies.
Since the advent of the ATM, financial services have been disrupted by technology. The pandemic has made us unwilling to handle actual money and travel outside our houses to conduct financial transactions. Chatbots and automation in the financial services business are reducing man-hours, improving customer service, and increasing profitability. The influence of new technology on financial services would differ by each job. However, you may adapt and gain substantially from increased use of technologies. Above all else, the following instruments might be very beneficial to financial organizations.
Companies in the financial technology sector might fall into any one of these distinct classifications:
InsurTech: Includes firms that offer insurance digitally or provide innovative digital business structures or tools for reinsurance.
Business banking: Accounting, payroll, invoicing, and spending management are just some of the services offered by business banking.
Lending: Commercial to alternative and speciality lenders as well as platforms that support P2P lending are included in this category.
Payments: Companies that provide funds transfer, remittance, and foreign currency exchange services are included in this category.
Banking: Personal current accounts, savings, and mortgages are the core products in banking.
RegTech: Reimagining and simplifying risk, credit scoring, and compliance are the primary goals of RegTech.
Benefits of Technology in the Financial Sector
1. Combining technology and traditional banking
The increasingly rapid speed of today's business environment means company demands are continuously changing, and conventional banking institutions are failing to keep up. Accelerated payments are becoming a significant financial need for enterprises. Companies and people alike need to know right away whether when money has been received and is ready for use. The sooner the payment is received, the faster the cash may be reinvested or put towards capital.
The use of artificial intelligence may eliminate some manual activities. AI analyses data to allow improved decision-making and more effective business financial management. Virtual, augmented, and mixed reality technologies are steadily making their presence in the financial industry. Solutions that include augmented reality may give customers a more immersive and enhanced experience. This might assist in bridging the gap between financial institution employees and their clients.
2. Promotes automation of finances
Many monetary chores must be carried out by hand or are very time-consuming. We all benefit from the time and effort saved by technological automation and simplification. Instead of making a trip to a bank to deposit a check by hand, customers may just snap a picture of the check and have it deposited directly into their account. Keeping track of spending is another example. A machine can download or scan papers and receipts in a fraction of its time to input and classify costs line-by-line manually. Rules and machine learning may then be used by technology to continuously learn and improve.
To give an example from the real world, a computer may search through hundreds of pages of tax regulations and transform them into code and a rules-based system that aids users in understanding and complying with the tax laws in their respective jurisdictions. Additionally, technology is changing how we handle and transfer money, providing extra fraud detection, and introducing new ideas like cryptocurrencies.
3. Encourages innovation in the field of finances
With the introduction of smart analytics, financial services organizations can now better understand and serve their consumers by mining the richness of consumer data. In addition, new financial services have been developed because of the use of technology. Organizations have a significant problem in developing better payment systems. In the future, Robo-advisory may play an essential role in financial services. On the other hand, Blockchain-based services are expected to become more popular in the future years.
As continual transformation is taking place in financial services due to the widespread use of technology. Innovation may be the emphasis of a separate entity, or it can be integrated across an entire company. "Extreme engineering" is required here. A complete stack of developers who can bring energy to innovation. Meanwhile adopting a start-up strategy is necessary to get the ball rolling here.
Organizations in the financial services sector may use the cloud's transparency and collaborative capabilities. To improve customer experience, CEM relies primarily on technological improvements. Fintech adoption is thus essential for financial services firms to prosper.
4. Role of technology in the Insurance sector
Recent technological advancements have benefitted the insurance sector, notably in data management. As time goes on, technology and insurance become more linked. Online insurance applications and quotes are already commonplace, and we can be certain that our personal information is safe. As a result, self-service internet portals make it simple to make modest modifications to your coverage. Any time a claim is filed with a property insurance company, the process of an appraisal is triggered. Using consumer data analytics, financial technology allows insurers to create customized contracts for each client.
Conclusion
Fintech's rapid expansion is helping to make money and all its connected services more accessible than ever before. This means that you should be aware of how easy it is to acquire information and do your homework before moving forward. New technologies are critical in a field like financial services, where competition is fierce, and change occurs at a breakneck pace. Financial institutions can rent and modify apps, chatbots, and other digital experience solutions that would otherwise take years to develop to any quality standard -thanks to digital experience platforms and developers. Financial institutions can remain focused on what they do best by leveraging new technologies. Many emerging technologies have a lot to offer, but there is no guarantee that they will succeed. Consider all your possibilities before selecting the greatest one and determining how to develop or increase them.
Author Bio:
Prashant Pujara is the CEO of MultiQoS Technologies, an ecommerce-focused Mobile App Development Company where you can hire app developers for your business. He oversees the company's commercial and delivery operations and strategic planning and strategy.
Social Media:
Facebook | https://www.facebook.com/MultiQoS/
Twitter | https://twitter.com/MultiQoS
LinkedIn | https://www.linkedin.com/company/multiqos
Instagram | https://www.instagram.com/multiqos/
YouTube | https://www.youtube.com/channel/UCPhykv2fhGq9Dn6r2g7ELrw
Pinterest | https://www.pinterest.com/multiqos_technologies/