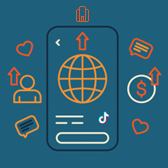 Tiktok has experienced an unseen surge in users in the last few years, spearheaded by the Covid-19 pandemic and a desire for creative outlets to communicate and interact.
According to Wallaroo Media, Tiktok has been downloaded over 2.6 billion times worldwide, with 62 million downloads in 2021 and, in the first quarter of 2020 alone, 315 million downloads, holding the record for the most downloads in a quarter by any app ever.
Tiktok has also become the perfect platform to advertise your business and create a strong and recognizable brand image that is able to appeal to mass audiences. Business Of Apps found that Tiktok generated an estimated $4.6 billion in revenue from 2021, with a 142% increase year-on-year, with businesses operating on the app experiencing exponential growth in sales in the same period.
What Is Tiktok?
Tiktok is a creative social media app that is used for creating, sharing and watching short video clips, photos or trends. Beloved by many, the app hosts a range of communities and is a breeding ground for recent humor and in-jokes, helping to attract people from all walks of life.
For B2B businesses specifically, Tiktok is a great platform to promote your product or service, offering unique and dynamic ways to appeal to your audience and generate the most profit from your marketing operations at a low cost. Utilizing quality content businesses can authentically reach their audience and stand out.
Here are the top 5 tip-top marketing tips for Tiktok.
#1 Appeal to The Masses
Due to Tiktok's status as a diverse and international platform, your audience will be made up of a vast array of consumers from all different walks of life. By appealing to as many as possible, you open your target demographic and increase your chances of success with your marketing campaigns, helping to improve the recognition of your brand.
The best way for your business to do this is by participating in up-and-coming trends. This shows that your business is relatable, fun, down-to-earth and informed in the needs of the consumers. Businesses such as RyanAir and Microsoft paved the way for this method of advertising, experiencing significant growth in online mentions and shares by interacting with users and communities frequently and comedically.
The importance of appealing to the masses in this modern age of technology must be emphasised. According to Replai, "our workplaces, shopping habits and social interactions have been accelerated towards digitisation as a result of the pandemic. Whether scrolling through Instagram, or filling our lunch breaks with Youtube, video is the king of content".
Your business will benefit significantly from using platforms like Tiktok to market to a mass audience, growing your exposure and improving your brand image exponentially.
#2 Collaborate with Influencers
The best way to market effectively using Tiktok is to work with the professionals.
Gucci showcased this when they chose to collaborate with train enthusiast Francis Bourgeois, a Nottingham student who went viral with 11.3 million likes. Following his success and popularity on the platform he rapidly became the new face of Gucci, spearheading a 'Gucci x North Face' campaign.
This helped Gucci to establish their brand to younger audiences and reposition themselves as a trendy and prestigious business, leading to greater sales from younger audiences. By interacting with Tiktok stars, they were able to become more successful within different markets and thrive as a business.
Your business will benefit greatly from working with niche micro-influencers in different communities on Tiktok; by working with multiple influencers, your brand can be seen to be 'taking over' which can be helpful for greater brand recognition.
#3 Start A Challenge
Many businesses choose to market on Tiktok by taking part in current trends, or even creating their own. By doing so you can familiarize large segments of your audience to your brand and what it is about which can be helpful in improving brand recognition and confidence.
Walkers are currently dominating this approach with their '#CrispIN or #CrispOUT' campaign, using prominent social celebrities such as Gordon Ramsey and Nigella Lawson to propel the effect of the campaign.
By creating your own trend or challenge, you can improve brand recognition through word-of-mouth advertising between consumers who take part and post your trend. This would help your business to establish itself in 'Internet culture' and provide you with an easier gateway to market on Tiktok in the future.
Furthermore, it would help to add personality to your brand. Younger consumers are shifting away from traditional brands who fail to keep up-to-date with the newest trends and developments, favoring brands like Walkers and RyanAir who play on the comedic preferences of their new audience.
#4 Boost Your Exposure
Tiktok offers a range of opportunities for businesses to boost their exposure on the platform, such as through different styles of advertisements or greater interaction. Currently, Tiktok offers two methods of advertising: mandatory ads and in-feed ads.
Mandatory advertisements appear when a user first opens the app and are harder to skip than in-feed advertisements. Whilst this would be highly beneficial in gaining consumer attention and brand recognition, it could also lead to frustration towards your brand as they are hindering the users' experience. Furthermore, only one mandatory advertisement can appear on a users' feed per day, limiting the awareness of your brand.
On the other hand, in-feed advertisements are skippable videos similar to normal videos that are subtly branded with "advertisement" in the corner. These advertisements are cheaper than mandatory ones and allow a business to subtly demonstrate their product or service without hindering the experience of the user. However, this also makes them easily skippable, with many users ignoring them in favor of returning to their tailored content.
However, for these methods to work, you need to consider Tiktok's audience. Replai highlights this by stating that "content must be designed to be appealing to a wider public, instead of pre-selecting your audience from those most likely to be enthusiastic towards your product".
#5 Post Frequently and Precisely
It is no secret that Tiktok tends to favor active users more than inactive ones. It is estimated that Tiktok has 100 million active monthly users, all of which are consistently liking and sharing various posts.
To get the most out of Tiktok marketing, you need to strategically plan your approach to posting. For example, if you are focusing on appealing to business European users, you need to schedule your post and advertisements around lunch or break schedules.
Furthermore, you need to make sure that your posts are precise. Posting about irrelevant topics to your business or misleading information could be detrimental to your success, as could jumping on the wrong trends and topics.
If you can master a timetable that revolves around your audience's, you can maximize the effect of any marketing campaign on Tiktok.