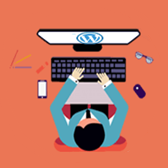 WordPress is known for consistently updating features and improving their platform. With WordPress 6.1 comes fluid typography, an upgraded template system, new site health checks, and many other interesting features that website owners can leverage to deliver added convenience for their website end-users.
Launched on November 1, 2022, WordPress 6.1 "Misha" is perfectly blended with all 11 versions (13.1 to 14.1) of the Gutenberg plugin and is offering a range of exciting features to refine user experiences. This post is a brief teaser of the latest improvements that you will get with WordPress 6.1 and how it will impact your business website.
What WordPress 6.1 Offers to End Users?
Revamped default theme with 10 style variations
Added blocks with effective design tools
Enhanced and polished template experience
Availability of header and footer patterns for all themes
Browse mode for editors to zoom in and out while working on posts
Benefits for WordPress Developers
Enhanced iterations on styling
Improved support for Query loop blocks
Greater flexibility and convenience in configuring theme styles and block settings
Styling elements inside the blocks, including buttons, headings or captions, typography, layout, and spacing
Key Improvements that WordPress 6.1 Brings
Fluid Typography
WordPress 6.1 supports fluid typography with enhanced responsiveness where the text sizes adjust automatically according to the user's viewpoint. To change this setting in a theme.json file, you must select the fluid parameter by selecting the minimum and maximum width in the settings.typography.fontSizes. Set the fluid value to "False" if you want to disable this function.
Depending on the viewpoint this is a convenient option to change text size. Additionally, it's an innovation to what you do with media queries. The preset spacing aspect has also been improved, allowing users to define arbitrary values.
Column Block & Border Styling
Users can set desired color and width in the column blocks with the border control element. They can even define colors for each border. The quote and list blocks also come with their inner blocks allowing you to display different items under their respective blocks and move them up and down without having to type them again.
Content-Only Block Editing Feature
You can now change the sidebar settings to list the blocks with content; select any block and modify the content, make changes to the layout by clicking on the "Modify" button on the toolbar, and disable the content-only block editing feature. This shows the usual settings that you were using before.
Improvements to Editor Screen
This is another significant enhancement offered by WordPress 6.1, which makes the site editor section much more user-friendly. The preview button has been renamed "View," which opens in a new tab along with an enhanced Information Panel to show text on buttons instead of icons.
Refurbished Template Experience
The template creation has also been refined, fetching content from the nearest available template. This eliminates the need to start from scratch and saves time creating content for each new template. WordPress developers can create templates for different pages with complete freedom to customize them according to the page requirements and their relevance to the site. With this, you get enhanced control over templates by assigning which pages will use a specific template.
Table of Contents Block
This feature is a boon from an SEO point of view as this block identifies headlines-, adds them to the blog post, and creates anchor links for it. It gives users an extra edge over the SEO aspects by automatically creating a table of contents along with the anchor links in the blog posts.
2023-Standard Theme
This is one of the most rejoiced aspects of WordPress 6.1, offering 11 style variations. You can switch to a different color, font, and style with a single click. Using the site editor, you can easily customize these themes for your requirements. You also get four different fonts to choose from that can be applied to blog posts. This is also a good option when working on custom WordPress website development.
Some Other Performance-Related Improvements
All the improvements in WordPress 6.1 have made it a much faster, more efficient, and capable platform. This will directly impact the SEO results as search engines favor faster sites.
You can now cache WP_Query in the database resulting in decreased repeated database queries, also making the site load faster. In addition, improvements in REST API database queries will also streamline the database processes by aligning all the caches in a single database query.
Moreover, you can handle media more smartly by implementing async decoding to the images for a page. This will make the page load faster and the browser decodes the images asynchronously. This will really benefit image-based websites and you can gain an edge over your competitors by installing an image compression plugin.
Improved Site Health Checks
This helps users identify performance-related touchpoints and decide whether to use a persistent object cache or a full-page cache. Additionally, the improvements in Cron API (task scheduler for backups and updates) will also speed up your site's performance, making it compatible with LiteSpeed Web Server Plus, LSAPI.
WordPress 6.1, in a Nutshell
Introducing more templates with extended patterns for all types of posts
Adding a table of contents for each post without any third-party solutions
Improvements in columns, comments, categories, gallery, image, and navigation blocks.
2023 default theme with 10 style variations
Improvements in caching queries along with new site health checks
Accessibility improvements for the admin dashboard, login & registration forms, and site editor
Simplified data access for WordPress developers
Before You Switch to WordPress 6.1
Before you install WordPress 6.1, make sure that you run a full backup for your site so that in case any code incompatibilities arise, you can quickly revert changes to restore functionalities. You can do it manually through the web hosting service or a trusted plugin. Once you create a backup, test the update on your staging site and ensure that things work as smoothly as before. We strongly recommend ensuring that all your themes and plugins are compatible with the latest version.
Endnote
Hoping your WordPress site gets served up to the world with faster speed, enhanced user-friendliness, and industry-leading resources with the WordPress 6.1 version. So, be ready to leverage maximum benefits from the latest release of the world's most popular content management system and elevate your site's conversions and user base.
Author Bio
Nathan Smith is an experienced web and app developer, working with TechnoScore – a leading WordPress development company India. As a technology enthusiast, he is passionate about sharing his web and application development knowledge through his articles. Nathan keeps himself up to date with all the latest trends, innovations, and disruptions happening in and around the IT industry. He is also keen on sharing his ideas and understanding of the innovations in the IT domain with individuals and entrepreneurs interested in the trade.