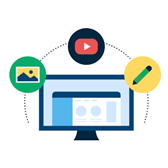 So many businesses are going remote and great online tools have become imperative for their success. Remote work is here to stay so why not invest in the best online tools for your business. In the blog below you will find some great tools that can increase productivity, make working from home easier for your company, and just make sense to use.
Slack
Every company needs chat tool other than email. Slack is a collaborative team chat tool. This makes getting in touch with coworkers quicker and easier. The app enables teams to bring all of their communication into one location to keep everyone on the same page and speed up responses.
Zoom
Zoom is a video meeting platform. Users can host high quality video and audio meetings for up to a max of 1,000 participants. Zoom makes it easy to virtually meet with coworkers at any time. Working remotely can feel lonely but Zoom helps you stay connected by being able to see the faces of coworkers without being in the office.
Dropbox or Google Drive
Dropbox gives access to all of your documents in a secure place. From any device you can collaborate with coworkers and easily access documents. Google Drive is similar and can be downloaded to your desktop or used on the web. These tools make it easy to find and keep any documents in one place.
SEMrush
Maybe more specific to marketing companies, this tool is an online marketing platform that specializes in SEO, content marketing, competitor research, PPC, and social media. This tool will help you generate ideas for increasing organic traffic.
Wave
Probably the most important tool for any business is one that manages your money. This is a simple accounting software. You can track all your expenses and make sure you're staying on top of any payments. The best part is it's free.
With the rise in interest around cryptocurrency it's easy to get started with this tool. Companies are turning to cryptocurrency to invite in more customers and it's useful to provide transparency in all your transactions. With the lowest fees in the industry, Okcoin is a good place to start. And it's never a bad idea to invest.
Monday
Planning and tracking your teams work is easy with this tool. View employee data as a map, calendar, or timeline to help you find the best time management solutions.
There are lots of helpful tools out there, but these have shown to be the most useful!