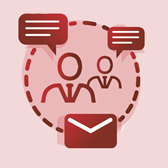 When the COVID-19 global pandemic hit the world, many companies and businesses went digital. Homes were quickly transformed into boardrooms and offices, forcing us to connect with our colleagues and employees in a completely different way.
Despite this, there's still an immediate need to connect with others, share ideas, broaden our knowledge, and hold employees accountable for their work. Together, workforces can accomplish more, posing the question "how do remote workers stay connected?"
By the end of April 2020, Zoom had over 300+ million users on a daily basis. Video-conferencing solutions were the way forward, allowing remote workers to stay connected with their teams, co-workers, and managers. While there's no doubt that these apps are essential tools, there are other ways remote workers can keep connected.
If you're ready to step outside the Zoom box, here are 4 other ways you can keep connected with remote workers.
1. Talk on the phone
While it may seem like a simple task, talking on the phone is one of the best ways to connect with someone. The trouble with video calling is that you can see yourself on the screen; whether you like to look at yourself or not, it's a big distraction and causes you to fixate on your image rather than listening attentively to other people.
Calling someone can feel somewhat more intimate. I can bet that most people will pick up the phone to call their friends and family, but not so much their colleagues. Back when workers were bustling around the office, it was easy to pop over to someone else's desk to have a chat, whether it be for work or personal purposes.
A phone call builds a sense of connection and can provide ways to keep remote workers connected and engaged with each other. It's a much warmer way to connect rather than via email or video conferencing.
2. Share some food
If you previously used to take coffee breaks with colleagues, employees, or your employer, there's no reason why you can't continue to do this as a remote worker. Granted, this may not always be possible if you live a long distance away from each other, but if you can arrange one day a week, or even one day a month where you get your team together for a meal, this is a great way to stay connected.
If social distancing proves too difficult, you can connect remotely with each other by creating the same meals over a phone call or have virtual dinner parties. Food can be a huge cultural learning curve and can allow remote workers to learn more about each other on a personal level.
For some, remote working can be really strenuous, especially if working from home with other household members, pets, and children. Taking a break at lunch to chat with another colleague can be a breath of fresh air and offers plenty of opportunities to socialize and create solid traditions to look forward to.
3. Be flexible
If you're a manager or a team manager, it's important to be open to being flexible. Remote working can be a challenge, especially if your team has never worked remotely before. You'll need to understand that they may have other household members at home that could pose a distraction, they may not have a suitable office space, and even the stress of a new environment could cause irregularities.
Flexibility is more than just understanding that remote working isn't always easy. It's about talking to your team privately and finding out what they need from you. Personal understanding offers a much deeper connection between employees and their employer.
Although you may be working separately, you are still all in it together. It's not as easy to stay connected as a remote worker but finding the right approach can offer strong working relationships and allow everyone to collaborate and move forward with this new way of life.
4. Offer a "water cooler" channel
Whether you're using Slack or another communication tool, it's a wise option to offer a space to allow employees and remote workers to have some non-work-related chit chat time. Remote workers will find being able to casually talk to other team members offers a much needed pick me up.
Showing an organization's human side can make a real difference. Make a point on congratulating employees' accomplishments, personal milestones, and birthdays, in an informal way.
Conclusion
Though Zoom is a helpful tool to keep remote workers connected, there are plenty of other ways you can ensure remote workers stay connected with their colleagues and employers. Working from home can be a tough ride for some, so being able to keep in touch with people on a regular basis is a must.
Author bio: Georgie is a Content Contributor for Web Hosting Professor. She is passionate about sharing her enthusiasm for technology through her content writing work, with a mission to help others learn and understand what makes the digital world so successful.