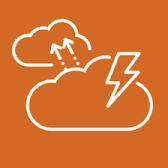 Have you been considering deploying a disaster recovery solution for your company? In the age of cybersecurity threats and rampant natural disasters, a well thought out disaster recovery plan can save your company in the event of an emergency.
There are numerous risks to consider when making a backup plan. Natural disasters, forces of nature that pose a significant threat to public safety, property or infrastructure, can include everything from wildfires to winter storms.
There are also possible man-made disasters due to accident or negligence and utility failures to consider. It is also possible to encounter intentional sabotage, whether from an outsider or someone within the company. These are usually in the form of a cybersecurity threat.
How to Construct a Business Continuity Plan
Large companies will have many things to consider when making the plan. Each department must be considered and their impact on the overall health of the company must be determined. Each scenario should be considered as well, and a well-documented plan written down for each. As you can imagine, this process can get lengthy. Here are the basic steps to take.
Step 1: Identify Your Objectives and Goals
The plan should include clear and measurable objectives and goals. For example, you should decide exactly how thorough you want the plan to be, as well as how often it will be practiced. What materials will you need to have on hand to accomplish these goals?
At this point you will need to consider your budget, the manpower needed to make the plan successful or anything else that should be considered beforehand.
Step 2: Choose Your Action Team
You will need to choose a team to lead your business continuity action plan. These teams will consist of command and control teams as well as task-oriented teams.
The command and control teams sub-team will be responsible for crisis management and recovery management. They should also be in charge of facilitating the process.
The task-oriented sub-teams will take care of specific, singular tasks. This can include mechanical equipment operations, technical and cybersecurity oversight, alternate communications, legal issues, damage assessment or public relations.
Step 3: Analyze Your Business
You will need to create a business impact analysis to reveal exactly which departments and/or functions are critical and should, therefore, be allocated resources first. An easy way to do this is to make a list of all aspects of the business and rate them on a scale of one to ten. One being the least severe and ten being the most.
This is the step where you should also identify any pain points or discrepancies in the plan and adjust accordingly.
Step 4: Plan to Maintain Operations
One of the most detailed aspects of this process, this step is where you will construct prevention strategies, response strategies and recovery strategies for each potential situation.
Prevention strategies can include protective measures like setting up alternate communication lines or alternate vendors. Response strategies will need to include detailed instructions for every department, for every type of emergency. All involved personnel should know their roll in these processes. Lastly, recovery strategies include what your company will do to get back on track after the situation has been contained. All are equally important.
Step 5: Test Your Plan and Train Your Staff
You should set up a set of reviews and drills that will test the effectiveness of the plan. This will allow you to train all staff members involved and ensure they will be fully prepared in the event of an emergency.
Through this process, you will likely identify pain points in the process as well which can be adjusted and re-tested until everyone is confident that the plan is solid. You can review the plan internally, or it can be helpful to hire an outside consultant to assess your plan.
The below visual from Nextiva outlines these processes simply so that you can begin to think about the scale your plan will have. The sooner your company is protected from the potential effects of a cybersecurity attack or other disaster, the better.