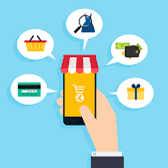 Companies that have an eCommerce store, need to stand out among competitors to increase sales. It can be done by using a variety of marketing techniques. These techniques will help companies increase brand awareness, attract new clients, and boost their income. Last year, eCommerce stores sold products that cost about $4.9 trillion. By 2025, this number is expected to ramp up by 50%. This is why it's important to pay attention to eCommerce strategies to ensure the stable development of business.
Companies can use this effective eCommerce marketing strategy for beginners that will help grab the attention of their target audience and make it easier for future clients to find products online. In this article, we have described the 12 best strategies that companies can use for promoting their business.
1. Using SEO Marketing for Promoting eCommerce Store
After setting up an eCommerce store, make sure to start promoting content right away. When building a site, it's necessary to make it well-organized, with convenient menus, categories, sub-categories, landing pages, and filters. Then you need to create engaging content.
The first thing to do, without addressing SEO professionals, is to submit the website to Google Index and add tags to all the pages using keywords. To find the right keywords, we recommend using Keyword Planner. It's a free tool created by Google Ads.
2. Creating Useful Educating Content
The leaders of the eCommerce industry tend to prioritize content marketing. By analyzing the Google search page, the company can see that there are plenty of articles at the top that were created 5-10 years ago. It means that algorithms didn't find a more relevant article that would answer clients' requests better. Therefore, sharing high-quality content is one of the most stable and effective methods of marketing known today.
Companies can also publish new content on their blog. Such articles typically include instructions, guides, tutorials, and other materials that help clients make an informed choice. Moreover, a great idea is to create a FAQ section with the most popular questions asked by clients and the company's answers to them. If clients don't often ask questions, we recommend using Google search. Many agencies add the question words "How," "When," and "Why" to the keywords to see what their clients are interested in.
To make content SEO optimized, it is important to use keywords, meta tags, unique images with alt attributes, and links to trustworthy platforms.
3. Taking High-Quality Photos and Videos of Product
While eCommerce stores are convenient to use, they don't allow customers to touch products. So, they may be hesitant about purchasing items in the store. When using various eCommerce marketing tactics, it's important to add high-quality photos and videos that can boost sales.
By showing products from all sides, potential clients will scrutinize them and feel more motivated to make a purchase. Besides creating engaging product overviews, many companies can also record product unboxing or promote related products to rocket sales.
When taking photos, we recommend paying attention to their quality. It is necessary to meet all the product photo standards. Those will little image editing experience can contact professional product retouching services. A standard cost is $2.50 / photo, so even startups with limited funds can order such services.
The U.S.-based agency MDG Advertising states that almost 70% of eCommerce store clients pay attention to product photos instead of descriptions. Besides, considering eCommerce image optimization allows selling more products due to increased conversion ratio. Such a strategy also guarantees that an eCommerce store will take a higher position in search results and that customer retention will be ratcheted up.
BUT! According to Weebly stats, 22% of product returns on eCommerce store platforms happen because people think that products look worse in real life than in photos. This is why it's important to take realistic photos with accurate colors and show products from all sides. Excessive photo editing may cause problems as clients will feel deceived.
4. Using Effective Social Media Marketing Strategies
Companies can still promote their products on social networks without paying anything. They just need to keep in touch with clients and answer their inquiries promptly to build a strong relationship with them. Besides, social media pages are indispensable for establishing relationships with new customers. By posting engaging content, business owners can reach a wider audience.
An effective social media strategy is the core instrument for improving brand awareness. Brands usually use several channels to promote their products across multiple platforms. Thus, more customers learn about new products, sales, or discounts.
If a company owner doesn't know which platform to focus on, he/she should choose the one that is the most relevant to the current needs. It is necessary to use high-quality images to lure potential customers to purchase products. The most useful social networks for eCommerce businesses are the following:
Facebook
Instagram
LinkedIn
Pinterest
TikTok
YouTube
Choosing an effective strategy is simpler by focusing on the target audience and the best ways to reach out to it. Thus, agencies can pick the most suitable strategy and a perfect social media platform for increasing brand awareness.
5. Using Shoppable Instagram Account to Increase Sales
Engaging listings with high-quality photos and detailed information about the company's products are the most effective ways to increase sales. Using shoppable content, companies can encourage customers to purchase products without any further delays.
We believe that creating an Instagram account to sell products online is a must rather than a whim. There, companies can post product photos and videos to reach to increase coverage. This platform makes it easier for clients to communicate with brands' representatives directly, so no wonder it is so popular among eCommerce businesses.
To create shoppable content, a business owner needs to buy ads and use selling tags. Thus, clients can find products online and buy them with ease.
6. Creating Listings of Products on Marketplaces
Large online marketplaces are perfect for people who want to buy products online. Last year alone, these platforms sold products for $3.32 trillion, which accounts for two-thirds of worldwide eCommerce sales.
The most widely used marketplaces are Amazon and eBay. By creating a listing on such platforms, the company can help people find products easily. Many people are prone to making spontaneous purchases, so selling specific categories products of products to them is a breeze. But business owners should keep in mind that such services cost extra.
To sell products online, companies can use online marketplaces and leverage effective marketing for eCommerce stores. There is no need to list all products on Amazon, however, it is a good idea to list the bestselling options. When shipping products, we recommend using branded packages to let clients know about an official website.
7. Using Email Marketing Techniques
To segment the target audience and build a rapport with potential clients more effectively, companies should take advantage of email marketing techniques. The task is to make the content of newsletters engaging and send emails to customers interested in particular offers. It's essential to personalize emails, offer discounts, and learn about customer' tastes and preferences in an unobtrusive manner.
Many companies use email marketing to put the word out about their business, promote future events, describe upcoming releases in detail, and share other useful information. It's important to establish a long-term connection with the audience and keep clients engaged by sending them well-written emails.
To make email marketing campaigns even more successful, we recommend using professional analytics tools. Many business owners use such instruments as HubSpot, ActiveCampaign, and Zoho Campaigns to derive benefits from CRM and tools for creating landing pages. With them, companies can launch effective email marketing campaigns, automate many tasks, add chatbots to sites, etc.
8. Creating a Map of the Customer Journey
The customer journey is a term that describes the way a person interacts with a brand and its products. It allows entrepreneurs to see how clients get information about a product when they visit a website or social media profiles. Thanks to this, it's easier to understand what spurs them to purchase and why some clients make repeated purchases.
By creating a map of a customer journey, it is simpler to understand what information clients find particularly engaging. This data lets companies see clearly what prevents potential clients from committing a purchase and what issues they might face.
An agency will find out how prospects interact with the brand when using the site, social media pages, Google Ads, or events. If business owners see that there are some issues with any of its touch points, they can fix them to make clients' experience more enjoyable.
Moreover, it's recommended to use dedicated website heatmap software tools, such as Attention Insight, Mouseflow, or Crazy Egg. With them, it is possible to see how often clients click on links or scroll through web pages, and determine the areas that require improvement.
9. Making Sure of Using Rankings and Reviews
The rating scale allows clients to quickly rank reviews left by other users. Thanks to it, it will be easier for potential customers to make a choice concerning a purchase. The company can add this scale to product listings or blog articles. This element of visual marketing can significantly boost conversions.
In addition to using ratings, we recommend creating a page with product reviews. It will be great to add a rating on the top of the page to make it easier for users to rate content. Turning on comments is a must. Many eCommerce store owners are afraid of negative reviews. However, there is no need to worry about them – the business owners just need to provide high-quality service, quick delivery, and instant feedback.
Many sellers complain that clients don't want to write reviews even if they are satisfied with a purchase. To solve this issue, we recommend doing the following:
Setting up a loyalty system and giving points for every purchase;
Giving customer loyalty points for every review;
Allowing clients to pay for products with customer loyalty points.
10. Engaging Mobile Device Users
Every year, the mobile eCommerce industry expands by over 130%. Mobile device traffic is on the rise as well. In many cases, it's cheaper than traffic from desktop devices. Therefore, it's important to create websites for mobile device owners.
When looking at the site from a small screen, it might be inconvenient to fill out forms and pages unless the platform is mobile-optimized. It is necessary to create a mobile website that facilitates purchases. If a customer can place an order without jumping through multiple hoops, the sales will surely increase.
We recommend publishing only the necessary information and making it easier for customers to purchase products using mobile devices. If they know what steps they need to take, it will be easier for them to buy a product.
11. Using Effective PPC Strategies for eCommerce Businesses
Every successful pay-per-click advertising campaign should include an engaging ad, an offer, and an easy-to-navigate landing page. PPC advertising is a great marketing strategy for an eCommerce website.
Provided all three components are in place, the company will be able to improve the conversion ratio. The landing page must contain detailed information and be relevant to the ad. It will motivate potential customers to make a purchase.
To improve the position of the store in search engine rankings, we recommend selecting relevant keywords. Thus, an eCommerce marketing strategy becomes more effective.
The landing page should contain no distracting elements. It's the best place to describe the advantages of a product in detail. To check whether it's effective, we recommend using the available analytic tools to analyze UTM parameters and track social media success.
12. Establishing a Partnership with Influencers
Another eCommerce marketing strategy for beginners involves cooperating with influencers. To establish a profitable partnership, we recommend following a few simple rules:
Company's goals and values should be shared by influencers. When ordering ads, businesses need to check whether influencers have the same values.
It's vital to analyze the target audience of an influencer by looking at the comments under their ports. This is necessary to discern whether comments were written by real subscribers.
When selecting an influencer, business owners shouldn't chase to the number of subscribers. It's more important to consider the conversion ratio. We recommend asking a micro blogger to send their stats or analyze their account using third-party services.
It is a good idea to ask influencers to create different types of content for the product promotion, including video tutorials and reviews. If an eCommerce store has just opened and the brand is not well known yet, we recommend asking clients to leave reviews as well. To encourage them to share their opinions, a business owner may entice them with generous gifts and discounts.
We recommend using the LiveDune platform to select a blogger for cooperation. The platform allows getting reports on user activity, their engagement, and the way they react to content on different social networks. Besides, there are some high-quality tools for comparing social media accounts and writing a report using hashtags.
Author Bio
Ann Young is a writer and photographer working for FixThePhoto. She has a degree from New York University and has been taking photos for more than 10 years. Ann enjoys sharing her experience and often writes articles on how to use the most effective marketing strategies for an eCommerce website and employ the newest marketing techniques for promoting photography businesses. Currently, she lives in New York.