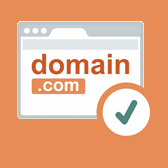 A decade ago, we often saw domains like trafficlawyeraustin.com or buycatfood.com. Many website owners still believe that exact-match domains (EMDs) boost SERP rankings and generate massive organic traffic.
Unfortunately, that is not how search engines work. According to Google's John Mueller, exact-match domains are not a ranking factor anymore. He concluded that having a keyword in a domain name does not make your website more credible than others.
Simply put, exact-match domains are a thing of the past. On the other hand, relevant and SEO-friendly domain names can give your online presence a boost.
In this article, we unveil the benefits of a domain name for business websites.
Clearly Stating the Website Purpose
While domain names cannot boost website rankings, they act as a relevancy signal. By inserting industry-specific phrases into your domain name, you ensure that it matches your website content. That is how you inform Google and online searchers about the type of your business.
Google aims to ban exact-match keywords, strive for broad, authentic phrases that align with your brand. That is how you will rank higher in the organic search and attract relevant audiences.
For example, say you want to choose a domain name for a bakery. Names like buycakes.com are generic and keyword-heavy. Apart from harming user experiences, they may also compromise your rankings. On the other hand, thecakefairy.com communicates the website's purpose and gets customer attention. Most importantly, it does not go against Google's rules.
Increasing Business Credibility
Google emphasizes that it ranks all TLDs the same. Still, most business websites use .com. Why is that so? The domain extension is popular and is synonymous with online safety. Some most popular alternatives to .com would be .co or .net.
Many companies decide to choose the domain extension by their industry. For example, educational organizations use .edu, while government institutions rest on the .gov TLD.
Local companies often pick country-code TLDs that help them attract the right audience groups. Some ccTLDs have gained global popularity. For instance, live-streaming and television broadcasting companies often select .tv instead of .com. Moreover, businesses across various industries use .me for personal domain names. It humanizes the brand presence rather than giving it a strict corporate vibe.
Similar to lengthy or keyword-stuffed domain names, some TLDs may seem untrustworthy. Domain extensions, such as .biz or .zip are spammy and, as such, may harm your online reputation.
Raising Brand Awareness and Memorability
It takes seven interactions with a brand before a customer memorizes it and takes action. Therefore, increasing brand awareness is a top priority in the hypercompetitive business landscape.
For starters, relevant domain names impact processing fluency. Customers have affirmative associations of the concepts they can easily understand, pronounce, or memorize.
Clear, memorable, and brandable domain names stand out from the crowd. Users can easily remember them and, therefore, come back and convert faster.
That is why you should choose a short and sweet domain name. Aim for up to 15 characters. Use simple, plain words that perfectly illustrate your brand purpose. Most importantly, avoid using hyphens or numbers since they may harm brand recall. Always ask yourself whether the name is easy to write and pronounce.
Making your Business More Relevant
With the rise of digital technologies, customer expectations and habits have changed. Modern customers expect brand interactions to be more user-oriented and highly personalized.
That is where choosing a domain name helps. Selecting the right domain name goes far beyond online rankings and website traffic. It is all about building a credible online image and connecting with customers on a more personal scale.
The goal is to understand your audience and design your domain name according to it. The authors behind the Beesy.me platform understood the assignment. Namely, they created an AI tool that streamlines time-consuming business activities, such as email or data analysis. The tool is designed for all busy bees, and its name perfectly reflects that. Instead of the traditional .com TLD, they chose .me that adds a human touch to their online presence.
Over to You
In the digital era, your digital presence starts with a well-optimized website. Irrespective of your business industry, a website helps you attract the right customers, boost online exposure, and maximize brand credibility.
Unsurprisingly, your domain name is the foundation of your digital success. That is why you should choose them strategically.
While it is not a direct ranking signal, it serves as a powerful brand reputation tool. It informs search engines and users about the purpose of your website. Creative and simple domain names increase brand awareness and referrals. Above all, they let you show the human side of your brand and connect with the audience on a more personal level.
We hope these insights will help you choose the right domain name for your business website!
Author Bio:
Sophia Smith is a lifestyle and social media blogger, and graphic and UX designer. She is an aesthete and photography lover by heart who absolutely loves everything that includes visual communication. Lately, she writes about digital marketing topics, from content to social. Sophia has contributed to a number of publications including Women Love Tech, Leader Maker, Legal Reader, Businessing Mag, Empire Resume, Monterey Premier, Times of Startups and many others.