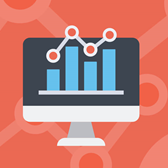 In the world of digital marketing, traffic and engagement are gold. But to find out how your website is performing through the conversion of your traffic, you'll need to understand the types of data this traffic brings. Business owners use tools like Google Analytics to keep an eye on their metrics and gauge site performance. While these are necessary, they're merely a slice of the pie in terms of what you need to know overall.
Funnel analytics
Funnel analytics can help you understand how leads obtained through your acquisition and onboarding funnels are working out. You'll have data about customer flow through lead generation, checkout pages, and registration, among other means.
You can conduct tests and make the necessary changes to your forms, CTA buttons, language, and whatnot after studying your funnel. Improving this facet of your analytics is one of the major ways to boost your bottom line.
On-site engagement
Apart from knowing how your visitors find their way to your site, you should also be aware of what they're doing there in the first place. This includes the buttons they're clicking on, the areas of the site they're hovering on, and the pages they're looking at.
A mouse tracking tool can help you gather this data. The information can help you learn about your website's usability and if there are any navigation issues that don't deliver an intuitive user experience. Brands can use this early on to help with website development but it's also useful to continually track user experience components to make regular improvements and optimizations in the long term.
Customer analytics
There are times when organizations take too long before they survey customers and set up feedback channels. With customer analytics, you can identify issues such as unfulfilled customer needs and confusion over your messaging system.
Customer data can be collected by surveying customers, speaking to your sales reps, and referring to your Customer Relationship Management (CRM) platform.
Lifecycle analytics
To figure out how to communicate with your customers the right way, you'll need data from emails, newsletters, in-app messaging and other messaging/communication platforms. This will help you improve both future communications and customer development through identifying and analyzing certain customer segments.
Marketing analytics
Some companies begin their marketing campaigns by pushing forward with the channels where they have the most experience. This may seem to make sense in theory, but it's a risky way to plan a marketing roadmap.
Marketing analytics tools can help you understand which methods work best. You'll be able to track and compare all your marketing channels so that you can measure the success of specific campaigns. Once you've analyzed all this data, you're equipped to decide how to allocate your budget and make better marketing decisions.