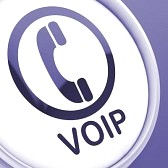 In today's economy, it should come as no surprise that businesses are looking to downsize and cut spending in any way that they can.  Believe it or not, one such expense that companies can afford to do without is a traditional landline telephone service.  Voice over Internet Protocol (VoIP) is a cloud service which supports both internal and external calling functions.  It is reliable, consistent, fast, and most importantly, it supports E911 access.
More and more CIOs do not see the benefit of owning their own phone systems, and thus, many businesses will benefit from trimming their budgets by switching to VoIP service.  Businesses can not only take the money they were going to use for a telephone system and allocate it to other uses, but they can also increase their productivity.  Switching to a VoIP system allows employees to attach documents, share data via video conferencing, and conduct virtual meetings all at the same time.
Your employees will become more flexible and mobile with a VoIP system.  VoIP adapters are highly portable, and you can take them almost anywhere.  The ability to integrate other software programs, including e-mail, fax, and remote conferencing over the Internet will allow your employees to travel almost anywhere and do everything they are required to do from their offices or workspace.  You will never miss a beat with a VoIP system, as VoIP long distance is cheaper than traditional landline long distance.  Keep open lines of communication with your traveling employees at a lower cost.
VoIP systems are very simple to install, and they require little technological know how.  Your business will have the capability to combine and store data into one single network, while cutting down on clutter and fire hazards with minimal extra wires.  You can even add new components to your system with minimal hassle.