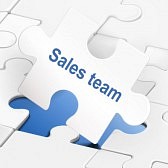 As an integral member of the Knowledge Hub Media Sales Team, you will:
Prospect and identify potential clients/customers within the enterprise software/hardware and business solutions sector.
Evaluate and educate potential clients/customers on the value of Knowledge Hub Media's B2B lead generation and advertising services.
Take a consultative approach with existing and prospective clients to identify their marketing and lead generation needs.
Sell lead generation and marketing campaigns that are finely targeted, and tailored towards your client's niche audience.
Track your sales pipeline and activity utilizing Salesforce.
Ideally, you will have:
A minimum of 2 years of B2B advertising sales experience.
A desire to be part of an industry changing organization.
A Bachelor's Degree.
Experience with Salesforce or similar CRM software.
Your compensation will include:
Base salary plus bonuses and commission.
Location:
Ideally you will be located in the Philadelphia, Pennsylvania area. However, we are also open to hiring remote sales executives who are motivated self-starters (who are comfortable working from home). Please attach your resume and a cover letter below to apply.
Apply now for the Account Strategy & Development Manager position >>
Hits: 350