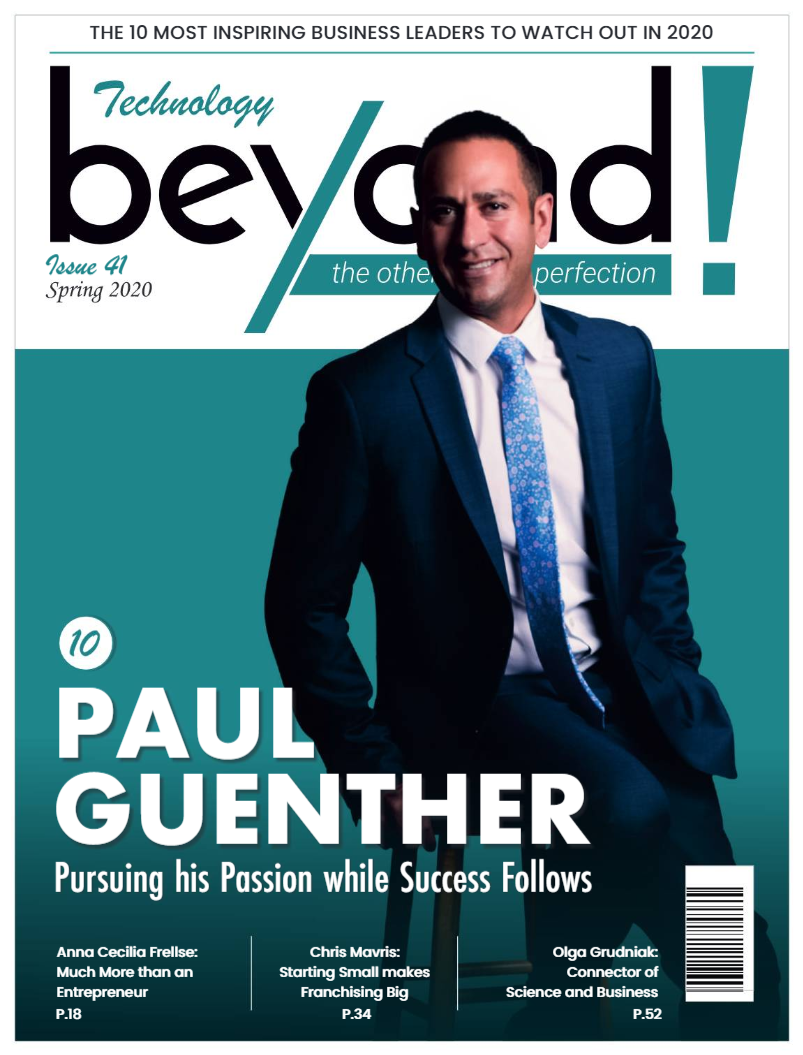 Knowledge Hub Media (company CEO) featured on cover of Beyond Exclamation magazine, Spring 2020
West Chester, PA (IssueWire.com)  – Knowledge Hub Media has been named one of the "10 Most Inspiring Business Leaders" to watch for in 2020 and is featured on this month's cover of Beyond Exclamation Magazine. The Spring 2020 issue, which was released earlier this week, dives into the company CEO's life as a successful entrepreneur. From the early, rather simplistic days, to the success that he's had with his award-winning company "Knowledge Hub Media." The article also tells the tale of how Knowledge Hub Media came to be.
The eight-page, featured cover story, explains how Knowledge Hub Media's CEO (Paul Guenther) turned his dream into a reality. Starting with his humble college days, where he put himself through school by running a successful e-commerce website, to now, where he runs one of the most highly respected and awarded B2B technology and media companies on the internet. The article features the role that Paul takes on as a successful CEO, as well as the distinctive services that Knowledge Hub Media offers, how they tackle the competition, stay motivated as a company, and ultimately, what their vision entails for a better future in the world of business-to-business advertising and marketing.
The Spring 2020 issue of Beyond Exclamation, which chronicles this year's "10 Most Inspiring Business Leaders," was released online at beyondexclamation.com this Wednesday. The print version of the magazine is set to hit stands early next week. Read through this month's issue of Beyond Exclamation Magazine to learn more about how 2020's top CEO's and business leaders are pursuing their passions – while their successes follow.
About Knowledge Hub Media
Knowledge Hub Media is an adverting-technology company that specializes in demand generation, white paper syndication, lead generation services, account based marketing, and b2b intent data analytics – the latter, via its "Intent DataCloud" platform. As of Q3 2020, Knowledge Hub Media is considered one of the industry's leading content syndication and intent data providers.
Follow us on Twitter: @KnowledgeHubB2B
Follow us on Facebook: Facebook.com/KnowledgeHubMedia/
Follow us on LinkedIn: LinkedIn.com/company/knowledge-hub-networks/
About Beyond Exclamation Magazine
Going "Beyond!" Something that mankind has always strived to attain. The history of mankind is a testimony of exclamatory tales, and has witnessed Tycoons, Technologists, Scientists and Artists going beyond their status-quo to win the exclamation. Their passion, commitment, diligence, and the other exclamatory elements have helped them move beyond themselves, beyond their shortcomings, beyond failure and beyond exclamation… The extraordinary journeys of these world movers have led to the creation that is "Beyond Exclamation" magazine.
To learn more about Beyond Exclamation: BeyondExclamation.com