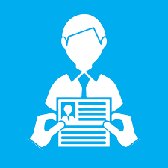 Automation is being increasingly used in every walk of life, and perhaps nowhere more so than in the business world.  But how does automation fit within the realms of Human Resources and, specifically, within the hiring process?  What are the benefits of designating the mechanisms of employment to an automated system?  Here are the key ways in which automation can streamline and strengthen the way in which you hire.
Advertising the Role
Software is available which can be used to target job advertising so that it reaches the audience you want to connect with most.  This helps to keep advertising costs down for a company, as well as improving efficiency by ensuring that the resumes you receive in your inbox are likely to be from suitable candidates.  Applying automation to job advertising can also have benefits to the strength of your branding, which can become, as a result, more consistent and relevant to your audience.
Recruitment via Social Media
Using automation in conjunction with advertising job opportunities on social media can be hugely beneficial in terms of effective targeting and time management.  Automated systems can target potential candidates by analyzing social connections and data, and can be used in conjunction with dedicated hiring platforms for even better results.
Eleanor James, a tech writer at Simple Grad and State of writing, suggests, 'using social media platforms to recruit alongside targeted advertising is fast becoming the new norm in terms of hiring.'
Resume Matching
A time saver of epic proportions, the ability to resume match through the use of an automated system is being increasingly used by businesses to streamline their recruiting processes.  Software can now be brought into play which uses sophisticated algorithms to find the most suitable resumes in the pile; employers can input, for example, the key skills or attributes they are seeking, and the software will match potential employees on that basis.  This algorithm can be adjusted as required.
Screening of Candidates
Screening is a vital yet unwieldy process but using automation in the screening of potential hires can increase both efficiency and effectiveness.  Pre-assessments including cognitive capability screening and an assessment of spoken language skills can be automated to ensure that only the most suitable candidates make it through the hiring process.  Tailored chatbots are also now being regularly used by companies to collect information from potential employees before the interview stage, which reduces pressure on the HR department whilst ensuring that all the necessary data is gathered.
Scheduling Interviews
Incorporating automation into the management of the interview process can be a beneficial move:  from automatic diary updates to the sending out of automatically generated invites to interview, automation allows for a more streamlined approach. Once set up, it is also easy to manage via dedicated platforms.
Keeping the Candidate Engaged
The hiring process can be a lengthy one and using automation to keep in touch with your candidates is an innovative use of this technology, and one that could pay dividends.  Specific CRM (Candidate Relationship Management) systems are available that can manage keeping candidates updated on the stages of the process and upcoming interviews or assessments.  This acts as a great introduction to a business for the potential new hire as well as being a further tool with which to manage the hiring system.
'Caring for your candidates from the start will stand you in good stead long term,' says Tom Hu, business blogger at Essay Roo and Australian reviewer. 'Using systems to ensure regular communication and updates to possible new members of staff is a great way to do this at the recruiting stage.'
Keeping Track of Past Candidates
Keeping the details of past candidates who were not successful for a specific role and matching their resumes with new roles as they come up, is a great way of incorporating automation into the hiring process.  Money and time can, in this way, be saved in the recruiting process by allowing software to do the work for you, filling gaps in your workforce with ease.
Automation Versus Manual Systems
Although it would be easy to suspect that an increasingly automated system would lead inevitably to a less personalised, more clinical approach to hiring, if used effectively, it can have the opposite effect.  By using tech to take over the parts of the process that would benefit from automation, staff are left free to concentrate on the elements of recruitment that would benefit most from the personal touch.
Author Bio:
Elizabeth Hines is a digital marketer and content writer at Best essay writing services and Academized review. She also writes for online magazines and blogs, including Study demic.  Elizabeth writes regularly about the latest tech and marketing trends, innovations and strategies.