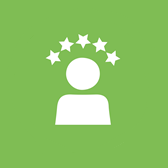 Nowadays businesses are in fierce competition to provide an outstanding customer-centric experience. The sustainability of any company is achievable through customer relationships; therefore, employing effective customer experience (CX) strategies is more important than ever.
These strategies boost buyer satisfaction and promote loyalty. A positive customer experience leads to positive reviews, making you the go-to brand that people seek out and prioritize over your competitors.
What is Customer Experience?
Customer experience covers every interaction your customers have with your business. Your company's sales, marketing, and customer service departments all play a role in forming public perception and opinion of your brand.
Why is Customer Experience Important?
First off, the impact of customer experience on any business is extremely significant. The better the experience you can provide, the higher chance for customers to give favorable feedback and recommend you to others. A superb customer experience also promotes brand loyalty among existing customers.
Other benefits of customer experience are as follows:
Brand equity boost – Brand equity is how valuable customers view your business as you offer quality products that meet or exceed their expectations.
Increased customer lifetime value (CLTV) – It means that the longer you can keep customers, the greater the provided value is during their lifetime relationship with your brand.
Better customer engagement – Customers place their trust in brands that are already familiar to them, allowing both parties to nurture a healthy customer-business relationship.
Customer churn reduction – Businesses that focus on solving customer queries proactively through personalized conversations reduce customer churn and increase customer retention.
Competitive edge – Beyond producing content to support your online visibility and brand awareness, creating a customer experience strategy is the key to helping your business stand out among the competition.
How to Build a Superior Customer Experience Strategy        
Define a clear customer experience vision – A clear vision will guide you and your organization to excel in customer experience. With this roadmap, your business operations will have structure. Your approach to customer experience will become organized and uniform as well.
Build a solid team to promote customer experience – A customer-centric team goes out of its way to provide the best customer experience possible. This team is hardworking and possesses the skills and knowledge necessary to help customers resolve their problems.
Understand your customers and their journeys – Awareness of various types of customers will play a huge role in providing a better customer experience. By understanding the nature and character of your customers, you can leverage your resources to render a customer-focused service. Establishing an emotional connection with your customers can also prove beneficial.
Invest in the suitable systems and tools to level up customer experience – Having a clear vision, a strong team, and an adequate understanding of your customers can go far in providing a satisfactory customer experience. If you want it to take things to the next level, consider investing in tools and systems that can help you streamline your processes, make you more accessible to customers, and improve your company's overall efficiency.
Incorporate customer feedback for continuous improvement – Customers are the lifeblood of your business. Their feedback should be the yardstick to measure how well your brand and customer experience is performing. Their feedback should allow you to recognize in which areas you need to improve, and which areas are doing well. Acknowledging customer feedback can also demonstrate your sincerity in providing them the great experience they're looking for.
Wrap Up

Enhancing the customer experience is an integral part of creating value for people who support your business. Keeping your customers happy, satisfied, and even impressed will establish customer loyalty and brand popularity, helping your business thrive.