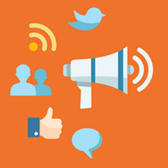 Account Based Marketing – or "ABM" for short – is a B2B demand generation strategy that concentrates sales and marketing initiatives on a clearly defined set of "target accounts." ABM marketing allows your company to target and generate leads from a predefined list of prospective customers or existing client accounts, resulting in a much higher ROI than almost any alternative type of marketing campaign.
As the adoption of Account Based Marketing has taken off, many B2B marketers are finding that without the right solutions, ABM demand generation can be very difficult to execute.
Knowledge Hub Media has been a staple in the B2B marketing world for over 10 years. Our Account Based Marketing strategies will:
Enable you to deliver ABM programs across the entire funnel.
Successfully engage key decision makers from your target accounts.
And ultimately, convert them into high quality, sales ready leads.
Learn more about our account based marketing programs now by checking out the short video embedded below…
Or, simply get your ABM initiatives kick-started started now: Learn More About Knowledge Hub Media's Content Syndication, Lead Generation & ABM Campaigns >>