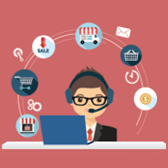 Managing a B2B eCommerce business or department is an enormous amount of work.
Opportunities never knock twice. You must make the most of each opportunity to market and promote your brand, win your business customers' hearts, and close deals. All while doing the daily chores necessary to keep the everything running smoothly. With such a frantic schedule, how do you scale your business?
Most Often, limited time to manage everything impedes growth. However, there is an easy solution: hiring an eCommerce virtual assistant.
Hiring eCommerce VAs will allow you to dispense some administrative tasks – such as stock management, order processing, customer support service, listing creation, optimization, email management, website maintenance, competitors' research, market analysis, etc. – leaving you to focus on tasks that require your continuous presence.
The Main Question: Are eCommerce Virtual Assistants Worth the Investment?
Time is finite. You only get limited hours to devote to work in a day, you must decide how to utilize your time and expand the business. Are leads going unpursued and opportunities unexploited?
Precisely for these reasons – hiring an eCommerce virtual assistants is worth the investment.
A virtual assistant, also called online secretaries or online assistants, can help with diverse business functions. They can handle administrative tasks that may be repetitive, tasks you don't have time for, or you're not an expert in, and they can ensure proper eCommerce business management.
Here is a list of many things an eCommerce virtual assistant can handle:
Customer Support Services
Product Sourcing
Administrative Tasks
Competitive Analysis
Copywriting
Translation
Ad Campaigns, etc.
What Are The Advantages Of Hiring eCommerce Virtual Assistants?
Versatility and flexibility are what make eCommerce virtual assistants advantageous.
If you find an eCommerce VA with the highest level of expertise, intelligence, and competence, you can count on them to complete numerous vital business functions. Moreover, hiring eCommerce VAs has many advantages, such as-
No Incurred Infrastructure or Equipment Costs
eCommerce virtual assistants operate outside the office and own all the equipment necessary for executing business tasks. So, there is no need to invest in infrastructure, new computers, furniture, applications, and technology because they already have that covered.
Payment For Only Carried Out Services
As self-employed contractors, eCommerce VAs get paid on an hourly or a project basis. You don't have to worry about giving them mandatory employee benefits, like healthcare or residential subsidies.
Scale Your Business & Boost Revenue
With the right skill set, experience, and knowledge, eCommerce virtual assistants drive your business to new success heights. They manage every business task perfectly and help you get more sales to boost your revenue considerably.
Focus On Core Business Activities
With the right eCommerce VA at your disposal, you can get enough time to focus on core business tasks to ensure that your business amplifies. Also, it will get you time to pay attention to tasks necessary for additional business expansion.
Increased Productivity
Paying attention to priority tasks is imperative in any business. But it isn't easy with a mountain pile of tasks vying for attention. Assigning administrative tasks to eCommerce virtual assistants minimizes your load, enabling you to focus on areas that increase your productivity.
Better Time Management
Virtual assistants earn on an hourly basis. Thus, they manage time better than permanent employees who draw fixed salaries. With proper management, they help you save time each day and, in the process, make your business processes more organized and efficient.
Help At Hand
Because eCommerce virtual assistants are independent service providers, they know their career rides on being productive and delivering value to businesses.
Thus, they take over the core business functions and provide effective results with minimal supervision from you. In addition, they help you when your business is at its peak, and you need to concentrate your time and efforts on productive chores.
Sign More Deals, Get More Clients
The time you spend on regular administrative tasks is the time you could have spent looking for money making deals. With the administrative work successfully outsourced to an eCommerce virtual assistant, you'll have enough time to invest in direct proposals. This increased effort and investment will lead to more deals, resulting in better performance and profitability.
Customer Support Services 24*7
9-5 won't cut it in the eCommerce world. Having an eCommerce business means being available to customers at different clock times worldwide.
When customers come forward with a query, they expect a fast response, which undeniably isn't possible with just one person running the department.
But with an eCommerce virtual assistant at your disposal, you can run customer support services 24*7. Virtual assistants from different time zones awake when your time zone is asleep. This ensures customers' needs from around the world are being met regardless of the time.
How and Where to Find eCommerce Virtual Assistants?
You can find eCommerce virtual assistants on freelancing platforms like Freelancer and Upwork. You can also outsource this task to a reputed service provider or virtual assistant company. Although choosing the right candidate- skilled, professional, and experienced is a complex process.
Remember, selecting the wrong candidate does more harm than good. Here are some critical factors you must consider:
Business Objectives & Requirements
Ascertain your business objectives and requirements before you start looking for eCommerce virtual assistants. This will enable you to find the candidates who are most suitable.
Primarily, determine what administrative tasks you want to delegate to VAs and the skills requirements for those tasks; this will help you know which candidate to look for and what jobs they'll perform. Additionally, identify your business weaknesses. For example, if your listings aren't optimized and do not appear in the searches, this may be a weakness that an eCommerce virtual assistant could address.
Communication Skills
If you require an eCommerce VA to delegate administrative services, looking for a candidate with excellent communication skills is imperative. When you're between the selection process, establish communication with them. Doing so will enable you to evaluate their communication abilities. You also can analyze their skills by role-playing: Pretend you're a customer and see how they communicate with you and provide solutions.
Expertise & Knowledge
Pay close attention to the candidate's work experience, knowledge, and skills. This will help you know if they have the expertise to perform effectively and efficiently. As you evaluate remote contractors, ask questions about the business through a questionnaire. Or consider interviewing by video call. This will give you an even more detailed view of the candidate.
A few interview questions you can ask:
Why did you apply for this role?
How long have you been working as an eCommerce virtual assistant?
From where did you learn all these skills? What are your core competencies? Are you certified?
How much experience do you have in the eCommerce industry?
Do you agree to report weekly?
What are your working times? Are there any particular days you would like to take off?
What all tools are you expert at?
Do you ensure data safety?
How many clients are you dealing with currently?
How much do you charge on an hourly basis?
Are you ready to sign a contract and non-disclosure agreement?
Practicing the above steps will help you identify your business's specific requirements and find an eCommerce VA who's a good fit.
Final Thought
Start Growing and expanding your business with an eCommerce virtual assistant at your disposal.
After reading our guide on why eCommerce virtual assistants are a worthy investment for businesses, you should be prepared to hire a VA now. Doing so will certainly take your business to new heights of success by giving you enough time to focus on business-critical activities that generate the most value (and eventually, money).
Did you know that hiring an eCommerce virtual assistant could save up to 70% on operating costs? This is because eCommerce Vas are experienced, skilled, and professional individual contractors that charge only for a productive time. A reason that makes VAs a worthy business investment. Working on eCommerce can be a freeing experience at first. But, when you get into details, it can also be a line of work that often has may repetitive tedious tasks. That's why it's imperative to hire eCommerce VAs. They immediately manage your business for more productivity. Additionally, there are many advantages of hiring eCommerce VAs. Now you know why hiring a virtual assistant is essential to scale and expand your eCommerce business and what benefits they serve.
Author Bio
Albert Holmes is an eCommerce consultant, currently engaged with VirtualAssistantIndia.com. He has spent over a decade watching the eCommerce space evolve and currently uses his experience to guide a team of VAs. He also writes informative pieces on how businesses can make more sense of Virtual Assistant-relationships for streamlined operations.