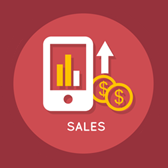 COVID-19 has changed the way sales happen, and its effects are here to stay.
Strategies that brought thousands of dollars in sales in 2019 might not generate a single dollar today. So, salespeople need to optimize their processes and methods to stay ahead of the competition.
According to Outreach, 53% of white-collar workers will be working from home for the foreseeable future, making it imperative for everyone to embrace technology.
With this in mind, let's take a look at the top sales trends you should watch out for post-COVID.
Artificial Intelligence to Enhance Sales Performance
Artificial intelligence makes it easier for salespeople to find and score leads based on different criteria.
The latest McKinsey Global Survey shows a nearly 25% year-over-year increase in AI adoption. In addition, a majority of executives reported it had helped increase revenue. In fact, 80% of marketing and sales teams see an increase in their year-over-year revenue after using AI.
Tools such as LinkedIn Sales Navigator, ClearBit Enrichment, and Apollo.io help businesses find leads using demographics and preferences. You can even leverage automation to generate leads automatically based on the criteria you set.
Additionally, artificial intelligence uses predictive analysis to determine buyer intent and the likelihood of conversion. It also enables you to understand how to respond to customers based on their intent data, previous interaction history, and past purchases (if any).
AI capabilities also include natural language processing (NLP), deep learning, computer vision, and intent classification.
With all these insights, sales reps can deliver a personalized experience to each prospect, increasing the chances of conversion.
Hyper-Personalization
Hyper-personalization has become more important than ever. It involves analyzing customer data and behavior to develop targeted campaigns that address prospect's concerns in real-time.
Marketers see an average increase of 56% in sales when they offer personalized experiences.
Hyper-personalization starts from the moment a prospect becomes aware of your offering and continues even after you have converted them.
To leverage hyper-personalization, divide your customers into different segments:
Their overall knowledge of your brand and product.
Their use of your product.
Their attitude towards your brand and product.
Their say in decision-making.
Once you have divided customers into different segments, categorize them further based on their individual needs to achieve better results.
Robust Presence in Different Channels
B2B customers want to be engaged in the channel they prefer. Since B2B decision-makers use multiple channels (social media, online forums, email, and calls), you need to establish a robust presence in all of them.
For social media, you can focus on B2B platforms like LinkedIn and Twitter and create content accordingly. For example, instead of solely highlighting the key benefits of your product, you can prioritize addressing your prospects' pain points. This will help establish authority and build trust with prospects.
Once you've engaged leads on social networks, you can move them to your email list or call them to inform them about your products.
Now, the type of content you send or post on these channels also matters. For example, some messages generate better results when delivered via email, voice, or text, while others require different formats (videos, infographics, and interactive reports).
You can take inspiration from HubSpot, Salesforce, or other leading B2B companies on how to build a robust presence in multiple channels.
Account-Based Marketing
Account-based marketing has been around for years. However, it is expected to grow significantly in popularity.
Account-based marketing focuses on aligning sales and marketing to operate towards a common goal. Here's how account-based marketing can help your business:
Deliver personalized messages: Since you know prospects' pain points and requirements, you can better personalize the messages to address their needs.
Expedite sales processes: Marketing campaigns are usually targeted towards primary decision-makers who are then passed to the sales team. This makes it easier for sales reps to nurture and convert them.
Increase average deal size: By promptly addressing the needs of your prospects, you can offer them better deals and retain them for longer.
Did you know, 87% of B2B marketers say that their ABM initiatives outperform other marketing strategies? In addition, 91% reported an increase in their average deal size, with 25% recording an increase of over 50%.
Video Marketing is Here to Stay
Last year, video marketing became mainstream for sales professionals. Frankly, it was the need of the hour. However, it has become a vital part of sales outreach as many people are still working from home.
Moreover, it provides convenience to both the company (reduces travel expenses) and the prospect (can schedule it any time of the day).
Video marketing allows sales reps to showcase their products and even give a demo. It also helps build trust as prospects can see the face behind the voice, thereby increasing the chances of conversion.
Sales Enablement
Sales enablement refers to the process of equipping your sales team with all the resources they need to close more deals. It also involves optimizing the sales strategies based on the prospect's decision-making behavior.
Sales enablement includes training (in-person training, online training, etc.), content & collateral (case studies, competitive analysis, etc.), operational support (forecasting, planning, etc.), and productivity tools (communication, CRM, etc.).
Apart from the above-mentioned aspects, sales enablement includes:
Preparing for the unexpected: Unless your sales reps are trained to handle different situations and work with new technology, converting prospects could be difficult. Sales enablement helps make your team situationally fluent and adapt to the latest technologies as and when required.
Understand buyer psychology: Not everyone will buy your products in the first interaction. Therefore, your sales reps must understand the buyer's psychology and adapt to the scene accordingly to increase the conversion rate.
Integrating marketing and sales: Apart from providing lead details, the marketing team should also equip sales reps with resources (videos, blogs, and product guides) they need to help customers make a decision.
Wrapping Up
Post-COVID, we will continue to see artificial intelligence, hyper-personalization, and account-based marketing helping sales reps convert more leads. Combined with video marketing and sales enablement, it'll further enhance your team's performance.
Are you prepared for these sales trends? What other sales trends do you expect to see post-COVID? Let us know in the comment section!