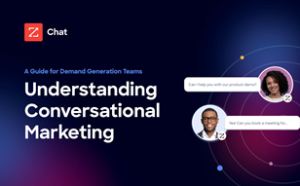 Conversations remain at the forefront of most business relationships. Numerous studies have shown that businesses that implement chat in their sales process see significant results, including:
54% more website engagement
52% increase in lead conversion rate
56% increase in deal close rate
58% more revenue
But what is conversational marketing really about? This guide examines the market forces at play, shifting buyer trends, what conversational marketing is, how to leverage it, and the tactics involved in adopting conversational marketing for a B2B demand generation strategy.