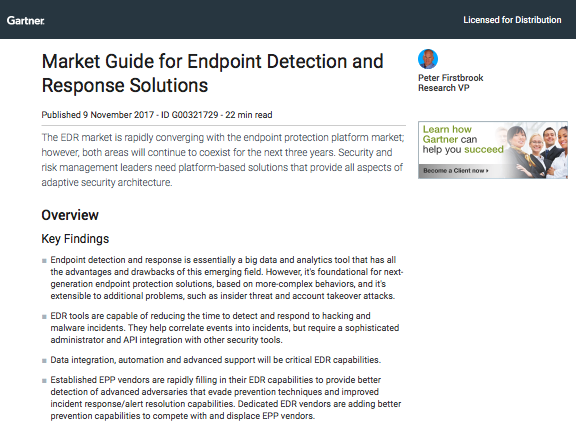 Gartner Market Guide: Elevate defenses with endpoint detection and response solutions
Endpoint defenses are evolving to keep pace with and get ahead of pervasive, sophisticated cyber attacks that target endpoints.
One rapidly growing area of endpoint protection is endpoint detection and response (EDR) solutions. Their main purpose is to increase visibility into endpoint status and events to improve threat detection and response times. EDR solutions have recently added features to actively block threats, enable machine-learning algorithms to detect threats and malicious activity, monitor privileged accounts for suspect behavior and much more.
The new Market Guide for Endpoint Detection and Response Solutions published by Gartner gives you the latest available information on EDR solutions, including:
Their four essential requirements
Types of organizations that should be adopting them
Typical and expected costs over time
Improvements in 2016 and anticipated capabilities
The number of EDR solutions and vendors is increasing at an extremely fast pace. Take advantage of Gartner's EDR market guide to learn how you can take your endpoint security to the next level.
Download and read the Gartner Market Guide.