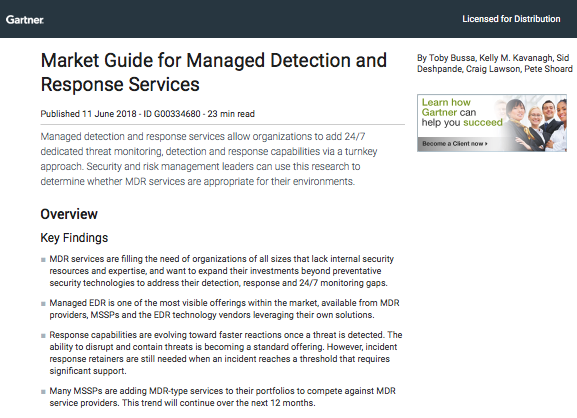 Security as a service is on the rise and managed detection and response (MDR) services are helping drive this growth. An effective MDR service is dedicated to continuously monitoring cyber assets for advanced threats, alerting to validated exploits, and rapidly investigating and responding to confirmed incidents.
In its Market Guide for Managed Detection and Response Services, Gartner details the range and depth of current MDR services, additionally describing offerings from a dozen representative MDR providers – including FireEye. The Gartner guide will help to:
Define the gaps in security programs when only a managed security service provider (MSSP) or security information and event management (SIEM) service is employed.
Identify the use cases in which MDR services deliver competitive advantages, specifically via better tools, analysis platform, people, and processes.
Evaluate an MDR service provider to determine whether they will meet your needs.
Read the report to learn more about the current MDR market and how you can evaluate services and providers.