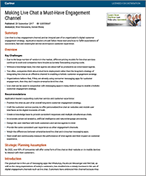 By 2022, over 85% of companies will offer some form of live chat on their website or on mobile devices to interact with their customers. We believe this comes as no surprise to organizations with first-mover advantage who are reaping the benefits and ROI of live chat today.
View the Gartner report "Making Live Chat a Must-Have Engagement Channel" to learn:
How live chat and customer service messaging work together to deliver easy, effortless outcomes to today's digital-first consumers
How AI, machine learning and analytics enable live agents to deliver personalized, contextually relevant service to consumers in their precise moments of need
Gartner's eight best practices for making live chat a key component of your self- and assisted-service customer engagement strategy

©2018 Gartner Inc. and/or it's affiliates. All rights reserved.
GARTNER is a registered trademark and service mark of Gartner, Inc. and/or its affiliates in the U.S. and internationally, and is used herein with permission. All rights reserved.
Gartner: Making Live Chat a Must-Have Engagement Channel, Brian Manusama and Guneet Bharaj, September 28, 2017