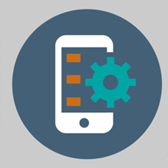 Smartphones have become an integral part of everyone's lives, and people are using their devices for more than just their personal life. For instance, online banking, ordering or checking delivery status, business emails, and more; everything can be done in just a single touch now. Thanks to highly interactive mobile apps, people can now do several tasks with complete ease.
According to Statista, total app revenue reached $420.70 billion in 2022 and is expected to reach $542.80 billion in 2026. As a result, many industry niches are investing in app development for successful businesses.
Having said that, if your company is ready to create an app and wants to create an aesthetically pleasing (yet interactive) app, you must consider hiring an app development partner agency.
This blog discusses the top six benefits of a mobile app partner, and the need for a mobile app for your enterprise business.
Why Do You Need a Mobile App?
One important feature of an interactive mobile app for your business is the brand recognition that you can gain globally. A mobile app can be a regular medium of interaction with your clients and target market that will help in create better brand awareness.
Apart from it, the mobile app has some more benefits that are followed:
Staying ahead of your business competitors with a unique app designed from a reliable app development partner agency. Businesses can keep their users engaged by sending notifications and interacting with their clients via their personal preferences.
Another benefit of developing a mobile app is the customer loyalty that you can gain with direct interaction with customers and current clients.
Mobile apps are an effective way to engage with client's interests or preferences by tracking their order history. Direct communication via apps brings more valuable information, like demographics, buying patterns, geographical locations, etc. to your marketing team.
Lastly, a study by Forbes stated that 3.8 trillion hours were recorded on mobile apps during 2021.
6 Reasons to Hire a Mobile App Partner
1. Equipped with App Professionals
An app development partner agency has professionals who bring their years of experience to the table in developing develop a unique app as per your enterprise business requirements.
The app development company has a complete dedicated team that includes designers, coders, a quality assurance team, and technical experts that can deliver high-quality app solutions.
2. Forms Long-Term Relationship
In actual terms, mobile app development is an endless process because even after its completion, post-app launch maintenance & support will be required.
It is necessary to have professionals by your side. They will continually monitor the app in terms of security and maintaining user-friendly updates to insure the app's success.
3. Security Is Guaranteed
One of the major things that concern entrepreneurs while developing a mobile app is security. No user would like to download a mobile app with data theft risks; that is why it is imperative to create a mobile app with top-notch security.
An app development partner agency remains mindful of the security practices because they have years of experience working on various projects from different industry niches. Moreover, they have relevant resources to maintain the app security and use the latest technology trends to meet the requirements.
4. Comprehensive App Development
If you have a mid or a large-sized business, hiring a mobile app partner can be beneficial for your app development.
The experts working on your project follow a comprehensive app development process. It includes proper market research, creating an interactive app prototype, designing UI/UX, and providing post-app launch maintenance & support.
5. Handle Legal Obligations
One great benefit to hire a mobile app development partner agency is to avoid the risk of legal issues. After completing the entire app development process, you can ask the development team to sign a non-disclosure agreement (NDA) that agrees to not share the app ideas with anyone.
Experts will provide you stability in the entire app development process. You can be assured that the entire team is following the agreement and not violating anything that can cause issue for your app.
6. Post-App Launch Maintenance & Support
The most prominent benefit you can get after hiring an app development company is the post-app launch maintenance & support services. If you want your app to be in your potential user's phone for a longer time, you must ensure that the app is up to date.
Thus, hiring a mobile app partner is crucial because the experts will provide these services every time a new update or version will come. They will even update the app design for a smooth user experience.
Conclusion
In a nutshell, hiring a mobile app development agency for your business is crucial because the experts will help you in achieving your goals. The app developers working at the organization have years of experience which they use to develop a unique app irrespective of the industry niche.
Author Bio
Richard Roundy is a senior mobile app developer working at AppsChopper, a leading mobile app development company, for more than 10 years. He takes interest in sharing his knowledge and expertise through writing blogs and journals.