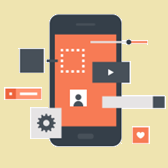 How much does it cost to build an app? Well, the short answer is anywhere between $40,000 and $300,000 and possibly more.
We know that this answer isn't going to help you much, so we asked one of the top app developers in Los Angeles to give us their first-hand insights into what makes these prices vary so considerably.
Here is what we've learned. Five factors that influence the app development cost the most are:
The Complexity of Features

Visual Design

Development Team

Backend Infrastructure

Platform
Let's get into a more detailed analysis!
1. The Complexity of Features
Your app's price will largely depend on the type of features you need to incorporate. Typically, we can divide these features into basic and complex.
Let's break down the prices for basic features first.
Basic features price list

Features

The average cost ($)

Login

1,100 – 1,700

Profile Completion

900 – 1,150

Profile edit

1,900 – 2,500

Search

500 – 750

Essential messaging

6,400 – 6,800

Receiving push notification

1,000 – 1,300

Sending push notification

300 – 550

User management

2,600 – 3,600

Payment management

900 – 1,800

File uploading

800 – 1,200
Bear in mind that these features' prices are based on a $40 hourly rate. Now, let's do the same for complex features.
Complex features price list

Features

The average cost ($)

Map

3,000 – 4,450

Payments

2,400 – 3,100

Streaming

3,600 – 5,600

Calls

10,300 – 14,600
These tables can give you a general idea of how much each feature can cost, but the cost can be lower or higher depending on where your app is being developed. We'll get to this later in this article.
2. Visual Design
The functionality of your app is important, but the visual effect is what attracts your users' attention and differentiates your app from the competition.
When it comes to your app's visual elements, your main focus will be on User Experience (UX) and User Interface (UI).
The UX will determine how the users interact with your app. It should be designed for easy navigation and a seamless experience.
Designing the UX for your app will typically take 60 to 120 hours to develop. If we use the same $40 hourly rate, we can conclude that UX design can cost you anywhere between $2,400 and $4,800.
UI components include color schemes, graphical elements, icons, layouts, animations, etc. The ultimate price for designing the UI for your app will depend on the desired complexity and uniqueness.
UI design can take between 50 and 100 hours to develop. In money terms, UI design can cost you anywhere from $2,000 to $4,000.
The previously listed expenses can be higher or lower, depending on where your app is developed and by whom. This brings us to our next section…
3. Development Team
Where you decide to outsource your app development will have a great impact on the bottom-line price. Here is the table that will help you understand the difference in pricing between various regions.
Pricing list according to different regions

Country

Hourly rate ($)

United States

125 – 175

United Kingdom

75 – 125

India

25 – 40

Canada

60 – 120

Germany

50 – 150
As you can see, US app developers are the most expensive, while Indian app developers are the cheapest. Still, it is advisable to conduct a thorough check of your potential app designer before you make the final decision.
4. Backend Infrastructure
Backend development serves to establish the connection between the app infrastructure and the database. Simply put, it collects information about your users' needs and their activities to create valuable statistical data.
How much the backend infrastructure will cost depends on what features you want to integrate into your app – geolocation, data encryption, Google Maps, etc.
For example, geolocation can take from 10 to 150 hours to develop, while data encryption requires 10 to 80 hours of development time.
Estimating the exact cost of backend infrastructure is almost impossible. One thing is certain, it is much more cost-effective than it was before the new technology solutions such as cloud storage and ever-evolving programming languages like JavaScript or PHP.
5. Platform
App development costs also depend on what platform the app is designed for. The three most common choices are iOS, Android, or cross-platform.
If you choose the iOS platform, your app will be available for Apple-branded device users only. On the other hand, the Android app will run on many mobile devices from many manufacturers such as Samsung, Google, OnePlus, Xiaomi, etc.
While there are many differences between iOS and Android app development, the end costs are not that far apart.
An iOS app can cost you between $55,000 and $300,000, while the ultimate price for an Android app can be in the $50,000 to $300,000 range.
On the other hand, cross-platform app development can be the most cost-effective solution. It can cost from $20,000 to $50,000 for moderate apps and up to $100,000 for more complex applications.
Before you decide which platform to choose for your app, consider what devices your target audience uses the most and which platform will provide you with the best and fastest return on investment (ROI).  
Additional Costs in App Development
Completing your app development doesn't mean you can put your wallet aside. You will also have to plan your expenses for testing, maintenance, publishing, and marketing for your app.
Testing is an important stage in app development. It allows you to check your app's functionality on different devices, operating systems, and screen sizes. In most cases, testing will cost less than $5,000, but it can go as high as $25,000.
Maintenance deals with bug fixing, optimizing stability and performance, developing new features, etc. Much like testing, maintenance can cost between $5,000 and $25,000 and possibly more.
Publishing an app on Apple App Store will cost you $99 per year. If you plan to publish your app on the Play Store, you will pay a one-time fee of $25.
Marketing is a crucial part of any app development. After all, what good is an app that nobody knows exists?
Marketing costs include many factors, such as:
Market research – $5,000 to $15,000
PR activities – $100 to $300 per hour
Influencer marketing – an average of $10,000 per collaboration
Social media marketing – $2,000 to $25,000
Paid advertising – $1 to $2 per click
Cost per install (CPI) – $0.90 to $2.50
You don't have to implement all the marketing strategies listed above. You can choose the ones that best fit your business goals and your planned budget.
Key Takeaways
Many factors can influence the cost of app development. Therefore, you need to gather as much information as possible about potential expenses.
You need to plan your budget according to your app's complexity, visual design, and backend infrastructure.
Choose the development team that will best fit your app's goals, but don't forget to double-check who you entrust with this important task.
Decide on the platform that your target audience uses the most and include all additional costs of app development, such as testing, publishing, marketing, and maintenance.
We hope our article provided you with valuable insights into what expenses to expect when designing an app. More importantly, we hope we have managed to help you plan your budget more precisely and launch your app successfully.