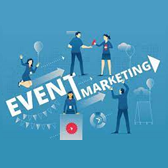 The most successful salespeople are those who are good at building relationships, and B2B event marketing is proof of that. But what is B2B event marketing? It's offline marketing or a live event, where businesses can build relationships between organizations. These relationships turn into customer retention, increased event revenue, sales acceleration, investor relations and actualized business goals! B2B event marketing is a time-tested strategy for shortening sales cycles and expediting the sales pipeline generation.
Here's how you can benefit from B2B event marketing.
Networking Opportunities
Many professionals have become successful because they've worked hard to build strong networking channels over time. One of the benefits from B2B event marketing is the chance to network with others in the same industry as yours. Networking events can come in different shapes and sizes, so you must choose which ones matter most for your organization or profession.
B2B event marketing can provide entry-level employees with valuable learning opportunities. While managers and executives find these events effective in meeting potential vendors, partners, and meeting and attracting new employees to hire. The best thing about these events is that like-minded people converge casually. For instance, if your goal is to meet new people in your industry, then you must take the time to attend these networking events. These events allow you to meet other business executives, vendors, promoters, and event professionals, with the opportunity to get to know them in a social setting, which easily facilitates relationship building.
Aside from the networking opportunities, B2B event marketing is a fantastic way to socialize outside of the office setting. Sometimes, spending too much time at work can take a toll on us. Attending a networking event is a great way to socialize while benefiting from the opportunity to network with other professionals in your industry.
Competitor Analysis
Attending corporate events like B2B marketing conferences offer great insights into your competitor's positioning in the industry. A competitive analysis is one way to grow your brand. It involves getting to know your competitors and gathering insight into their products, sales, and marketing strategies. One of the best places to conduct competitive analysis is through B2B marketing events.
Companies must keep track of industry conferences and events to stay informed about their competitor's activities and the latest innovations and trends in their industry. These events offer a deeper understanding of how your competitor moves and conducts business, including a detailed view of the competitor's products, innovation, positioning, and business strategies. Your competitors could shift positions without your knowledge, so you must keep them under your radar before it's too late.
These events are also a way to determine the products and services your competitors are offering. You can analyze your competitor's product line-up and get a closer look at the quality of their products and services. It's also a way to take note of their pricing and any discounts they may have.
Establish Credibility
If you are new to the industry and want to establish credibility, attending B2B events is the way to go. To be credible, you must be an expert in your field and attending business events gives you a chance to showcase your authority in the industry. If you are hosting the event, take advantage of the opportunity to teach others about new ideas and build a reputation for being an expert.
Consider hiring a professional speaker to demonstrate how you can add value for other organizations while providing valuable information. It's also a good idea to share the information with those not at the event. Develop online content like recorded speeches, Q&As, podcasts, and social media posts. That way, you can continue to reap the benefit of your event even after it's over. It also allows you to gain traction online in your industry, which is one of the best ways to establish credibility.
Regularly attending and hosting business events makes you more visible and gets you noticed in your industry. Connecting with people in your field and imparting your knowledge establishes your reputation as an expert in the industry, which will open more referrals and opportunities.
Increase Brand Awareness
One of the benefits you can reap from hosting or attending B2B event marketing is increasing brand awareness and exposure. It's an effective way to showcase your products or services to as many potential customers as possible. The right people can discover your brand through these events and understand how you can add value to their organization.
So, when attending B2B events, you should take the opportunity to showcase your products or services and let everyone know about your brand, especially those who need them the most. For instance, if you are in the tech industry, display your product in the most interactive way to engage your target customers. Present to the audience how your products can help improve their business operations and deliver their products and services.
Before showing up for the B2B marketing events, build a strong brand image and presence that will resonate with those attending the event. That way, you will stand out from the crowd. Do your research and find out who the attendees are and see who among them are the audiences you should target.
Helps Develop Sales Strategies
Networking is an essential skill in sales. It's a way of connecting with new clients and establishing a strong sales pipeline. Attending B2B industry events also allows you to develop sales strategies to open doors and build strong relationships with other players in the industry.
B2B events also allow you to engage with potential leads and turn them into sales-qualified leads through strategies like lead nurturing. For instance, you can provide them with relevant information about your products or services, answer as many questions as possible, and follow up with them after the event.
Use the opportunity to study your market. Identify clear decisions, determine proper actions and goals to convert your leads into customers and build long-lasting partnerships. One of the strategies you can implement is offering free consultation, which is also an effective way to gather relevant information from your potential customers.