New research reveals 75% of HR decision makers report issues with their HCM software provider's service.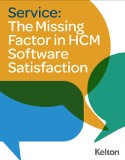 Too many buyers are underestimating the importance of service when evaluating HCM software providers. According to a new study by Kelton Global, nearly 8 in 10 HR decision makers have regretted their purchase, and poor service is the #1 cause of buyer's remorse. Read the full research results now and learn what to look for in choosing a provider to ensure long-term success and satisfaction with your HR technology.
Fill out this brief form for a free copy of the whitepaper.