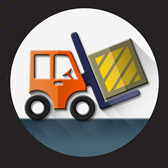 In any business there is pressure to reduce cost. This is especially true with logistics companies where inefficient processes lead to missed deadlines and damaged goods which drive cost up and customer satisfaction down.
There are several strategies you can implement to reduce cost during the logistic process. Some of these include the streamlining processes, enhancing client relationships, and inventory level optimization. Utilizing the right logistics management solution can also help.  In the meantime, here are few ways to reduce costs now.
Using a single integrated platform:
Using a single integrated platform reduces the chance of duplication of efforts during the delivery process. If you are using multiple platforms, you may be repeating steps without even realizing it, which wastes time and resources.
Consolidated shipments:
FCL is preferable to LCL when it comes to shipping goods because it is safe and cost-effective. With FCL, goods are loaded according to your specifications and space is shared with other vendors. Using FCL with your last-mile delivery software for logistics business can drive cost down.
Choose the best form of transport:
Identifying the best transportation strategy consumes less fuel which results in lower transportation cost. Last-mile logistics software helps in choosing the best form of transportation.
Visibility of the supply chain:
Having visibility throughout the supply chain process provides many benefits. Using a real-time dashboard gives you up to date information on inventory levels, delivery schedules and more. This allows you to immediately identify and resolve any issues that arise which ultimately results in cost savings.
Role of outsourcing:
Depending on the size of your business, outsourcing could also be a way to reduce costs. It may be more efficient to outsource when you are dealing with certain factors like temperature control requirements which could be difficult to maintain in house.
Using used containers:
Rather than purchasing new containers for shipping, consider using used ones. Many types of used containers such as mental bins, food trays, Gaylord boxes, and drums can be purchased at a lower cost.
Automate compliance process:
No one likes dealing with compliance but failure to make sure your company is compliant can result in hefty fines.  With the help of technology, like last-mile delivery management apps, you can automate the compliance process.
Direct delivery to the customer:
Shipping directly to the customers can save both time and money.  By eliminating the need for product storage during the shipping process, you'll save on labor cost and storage fees while increasing customer satisfaction.
Cargo Insurance:
Cargo insurance is extremely important. It might seem like an additional expense, but should anything happen to your shipments, the cost could be a lot higher.
Using technology:
Technology is another key factor in cutting down operational expenses.  Using logistics delivery software can increase visibility, streamline processes, and reduce labor costs.
Conclusion:
No matter the size of the company, everyone is looking for ways to cut costs. Especially for last-mile delivery startups, it is important to find cost reduction strategies. Implementing these ideas can help.
Author – Bio
Noman Shaikh is the Digital Marketing Head at Fixlastmile which is known for developing top-notch last mile delivery System. He believes in sharing his strong knowledge base focused on entrepreneurship and business.