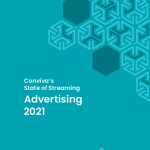 Conviva is the census, continuous measurement and engagement platform for streaming media. Today our platform processes nearly three trillion streaming data events daily, supporting more than 500 million unique viewers watching 200 billion streams per year across four billion applications streaming on devices.
Conviva's inaugural State of Streaming Advertising 2021 report provides premium streaming publishers a roadmap on how to grow their streaming ad revenues, tap into the $30 billion upside that exists in streaming advertising today, and engage their viewers in the process.
Read the report today!