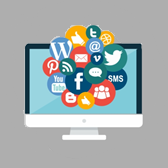 Though you can still use conventional marketing techniques like TV and radio ads, the internet is quickly gaining traction as the preferred customer outreach method. According to a 2020 Content Marketing Institute report, 86% of advertisers built brand awareness through digital marketing platforms. From search engine optimization and display advertising to paid search and social media marketing, there are many different digital marketing tools. Apart from improved conversion rates and a global reach, other digital marketing benefits include personalization and targeted advertising. You need a unique strategy to stay ahead of competitors. Here are 12 digital marketing apps that ease your workload and boost efficiency.
SEMrush
The digital marketing assistant analyzes your competitors' strategies to identify-link building opportunities. SEMrush can also check search intent and find competitive keywords to boost site ranking. Moreover, the tool's crawlers scan your site for technical errors and show you how to rectify them.
Canva
Even without digital marketing experience, you can use Canva to make your graphics look professional. This digital marketing tool presents numerous capabilities, from editing images and designing custom graphics to making GIFs and animated clips for social media. The good news is you don't have to pay to use this service; Canva's free digital marketing plan offers a variety of graphics for your site.
Trello
This digital marketing tool organizes tasks in one place for easier access by other team members. For instance, writers can share articles with editors before publishing. That way, blog posts are error-free when you upload them on your site. Since boards are easy to set up, your employees can start a project as soon as you upload it.
Grammarly
Whether it's an email or blog post, this AI-powered digital marketing analyst identifies errors in your writing to make your messages easy to understand. Though you can upload your work to the Grammarly website, you can also link the tool to your Gmail account or social platforms like LinkedIn and Twitter for automatic corrections.
Google Analytics
Whether you have a travel blog or gaming website connected to an online casino system, tracking your site's user behavior reveals how specific pages perform to show what consumers are interested in or ignoring. You also understand where customers struggle with your website and leave it.
You can use digital marketing tools like Google Analytics to track a visitor's actions on your site. This tool tracks your digital marketing performance by calculating your ROI, revenue, and ROAS. You can also check your visitors' location, age, and gender. Though Google Analytics has a free plan, you can upgrade to Google Analytics 360 for additional capabilities and unlimited use.
Zendesk
This digital marketing tool provides messaging support to websites and applications. Customers can enjoy fresh, conversational experiences on different digital channels, from email and self-service to voice and social messaging. Moreover, the Flow Builder feature guarantees instant answers every time, even when customer representatives are offline.
Hootsuite
Apart from analyzing your online campaigns' performance, this software recommends influencers and saves time through pre-written responses. You can also manage multiple social media accounts from one dashboard and publish posts when your followers are most active.
MobileMonkey
MobileMonkey combines your messaging profiles into one inbox for easier communication with customers. This tool supports the following messaging channels:
Instagram DMs
SMS
Facebook Messenger
Web live chat
You can also automate your replies and gather and send lead information to other digital marketing systems.
Buffer
Buffer saves time by scheduling your content and providing a dashboard to manage multiple social profiles. Furthermore, you can create and organize hashtags for Instagram posts. This goes together with analyzing your site's performance through insights and engagement data.
Mailchimp
Though it hit the market in 2001, this tool remains relevant to this day, offering email marketing solutions to millions of customers. The first advantage of this digital marketing assistant is its generous free plan that allows you to reach 2,000 subscribers. It also offers self-service support for all your queries. Additionally, you can grow your subscribers through automated targeting. Mailchimp also has a large selection of email templates for different digital marketing needs.
NordPass
It's not uncommon to forget your passwords when you have several online accounts. While some people use the same password for multiple accounts, doing so exposes you to data breaches. Besides generating strong, impossible to guess passcodes, NordPass secures the passwords in an encrypted vault. All you need to do is remember one password to access this vault.
PicMonkey
You can use this photo editing app to crop images and create logos and infographics for your digital marketing channels. You can either edit your own photographs or choose a stock image. In addition to tweaking the exposure, you can remove backgrounds from your photos and add effects. Furthermore, you can design Instagram and Facebook cover images from the site's templates.
Conclusion
Don't choose an app just because other businesses are using it. Instead, consider your pain points and advertising objectives before implementing a digital marketing tool. Do you have any tips on digital marketing for beginners? Share some digital marketing basics in the comments.
Author Bio
Jeremy Ambrose is a writer from New York who is always on the lookout for tools to make work easier. He runs a digital marketing agency and enjoys helping start-ups reach their full potential. During his free time, Jeremy enjoys playing chess, baking, and spending time with his dog Smurf.