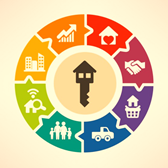 If you've been following the latest trends in digital marketing, you know that visual content is quickly becoming the most popular content type in the online world. Because it is engaging and concise, it helps brands to convey their message in a way that people easily understand, improving their bottom line. After all, who is going to be more satisfied, the customer that follows instructions with illustrations, or the one who is navigating a manual with no visual elements?
The reality is that people love the way visual content makes things easier, which is why infographics have become so popular. And, in today's market, you need to leverage every type of content to rank your site higher in the SERPs. Let's bring form and function together to give you the best ways to optimize your infographics for SEO and customer engagement.
Start with keyword research
Keep in mind that, in Google's eyes, an infographic is just another image on your website, so you won't be able to capitalize on keyword integration in the body of the text. That doesn't mean that there aren't areas where they are useful. Start by identifying the most relevant keywords for your industry or niche, and select a few to build your content on. You will want to research longtail keywords with the actual word "infographic" in them. This will attract people who are looking to obtain information through infographics instead of lengthy articles.
You can use the Google Keyword Planner for this like you would for any other content type. Be sure to identify a couple of secondary keywords that you can sprinkle around to rank higher for searches that closely target the main point of your infographic. All keywords need to be relevant to the topic or you could get penalized.
Implement keywords into relevant areas
Now that you have identified your primary keyword for the infographic along with the secondary phrases, you can move on to implementation. Again, you can integrate these keywords into the infographic itself, but they won't effect a Google search. This is because Google doesn't read images and why you should focus on integrating keywords into the alt-text and other key areas.
Start with the file name. Choose the right verbiage to make it relevant for Google and attractive to your audience. Make it straightforward and to the point. Next, use the alt-text section to explain what your infographic is about. Use one of your supporting keywords here. You should also use keywords in the URL, the H1 tag, the meta description, and the supporting text.
Weave your brand into the infographic
When it comes to engagement, you need to focus on creating stunning visuals that will support the text and the message you are trying to convey. After all, people are looking to obtain relevant information in a quick and easy way, so written content is only a part of the equation.
This is something that experienced agencies, such as Infostarters, realized a while ago. This is why they emphasize branded visuals and unique design elements in their work, all the while combining these features with your brand's voice and the actionable data you're trying to convey to your audience.
Create a compelling meta description
In a nutshell, the meta description is that small block of text just below your page in the search results that aims to better explain what the page is about without forcing the visitor to click on the link. It's important to create an appealing meta description for all your infographics in order to encourage people to visit your site.
The meta description needs to be rich in relevant information, but it also needs to be short and to-the-point. Keep the length between 135 and 160 characters, include a single relevant keyword, make sure the copy accurately portrays what's on the page. You should also add a short CTA at the end that will inspire people to click on your link.
Optimize for mobile
If you're not optimizing your site and all your content for mobile users, you're not only losing out on traffic and conversions, but you're also wasting SEO potential. Google emphasizes websites that use AMPs to their advantage and online presentations that are optimized for all devices and screen sizes.
It's also important that your infographics load properly on mobile devices, and that they scroll seamlessly without any performance issues. Make sure that these pages load quickly as well. People won't wait around for slow loading infographics. You should also make it easy for people to zoom in and out for better viewing on smaller screen sizes.
Wrapping up
Infographics have become extremely valuable to digital marketers in recent years and very effective for online audiences. Be sure to capitalize on this leading content form by using these tips to make your infographics more SEO-friendly, engaging, and relevant.
AUTHOR BIO
Jacob Wilson is a business consultant, and an organizational psychologist, based in Brisbane. Passionate about marketing, social networks, and business in general. In his spare time, he writes a lot about new business strategies and digital marketing for Bizzmark blog.