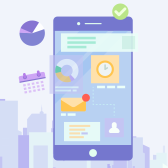 New trends and innovations are an essential part of every business industry.  And right now, many businesses are exploring the power of mobile apps to impress their employees and customer base. If your company doesn't have a mobile app, you should explore what a mobile app can do for your company.
So, what can an enterprise mobility solution do for your company? In today's blog we'll cover what it means in detail and explore the importance of enterprise mobility. We will look at the complete process of utilizing mobile apps as an enterprise mobility solution into your ecosystem to maximize your growth opportunities.
Understanding Enterprise Mobility Solutions
Enterprise mobility is when businesses offer their employees remote working options, so the employees can use their own devices and cell phones for business. In doing this companies need to rely on cloud technologies for employees to access their data.
This allows business to stand out from their competition and when hiring employees and leads to a better work/life balance and happiness for employees. In relation to mobile apps, enterprise mobility allows companies to deliver a better mobility experience to the employees, management, and customers. Every solution designed to make the business process better when employees or customers are off site falls under enterprise mobility solutions.
Here are the Objectives of Enterprise Mobility Solutions for a Business!
With mobility solutions, enterprises can streamline their communication with remote employees using the power of mobile devices. An internal organization app, like a portal, can help employees in communicating individually or with a team easily. Employees can also gain access to share drives and cloud information securely thought the app.
With the mobile app a businesses' overall productivity increases, the dependency on paperwork reduces, chances of errors decrease, and analysing report data is helpful to management. Most importantly through cloud solutions – the risk of data loss decreases drastically.
Why Are Enterprise Mobility Solutions Important?
Enterprise mobility solutions offer a wide possibility to enterprises so that they can deliver the utmost convenience to their employees. Having a flexible work environment with the freedom to work on any device is a huge draw for employees.
A decade ago, employees only utilized company desktops when working from home and away from the office. Now, employees have the options to work from anywhere and on any device. Enterprises can also cut costs because they don't have the purchase laptops and mobile phones for every employee. Therefore, enterprise mobility solutions are important for growth and staying relevant to your employees.
Enterprise mobility solutions and services contain a wide array of online solutions for businesses. But here, we will focus on the process of designing a personalized mobile app for your company.
Consultation For Mobile App
This is one of the first steps you will take when you're ready to build a custom mobile app for your company. Consulting with an app development company you will address various challenges that your enterprise is facing and how mobile apps can act as the solution to the challenges. You will explore your company's vision, objectives, and operations to deliver them the complete idea of your apps functions.
Finalizing the Design of Your App
For this process, if you are building an app for employees, then you must frame a design according to their preferences. If you are building it for your clients, then you must think about what their needs will be. Determine the looks and feel of your app in detail with your mobile app development company. Make sure to use your companies color and themes so it's easily recognizable to your employees. Additionally, here you can choose the layout of the app and how you want to features to look and work together.
Building the App
Now that you have consulted and finalized the design of your app, it is time that you put it into development. Next you will leave the hard work to your mobile app development experts. They will put together your app features as you discussed with them.  Your app can be for iOS, Android, or both with a hybrid app development option.
Integrating the App with Your Systems
If you are using cloud technology in your enterprise ecosystem, make sure to flawlessly connect your mobile app with it. Choose third-party APIs and other resources. While using third-party resources, make sure that you do not compromise the privacy and security of users.
Assure the Quality of the Product
After the development process is complete, quality assurance is necessary. Your app will go through multiple test cases to find bugs and performance issues within your app. There is a wide range of testing methods, and your quality assurance team assigned to you will handle everything.
Maintenance and Support
Since technology is always evolving, you need to stay connected with your app development agency. Why? Because you will need your product to stay updated. And once your users use the app, you will find where the holes are and what needs changed. Let's not forget security, it's important to stay connected with your agency because they will make sure the security is top notch and your data isn't at risk.
What's Next to Achieve Enterprise Mobility?
Now that know what enterprise mobility is and the process to implement it, it's time to find someone to make your businesses app! Start by researching the top enterprise mobility solution service providers and get ready to build your mobile app and maximize your growth. Then everything you need will be in one convenient app for your employees and they will not need a separate app for emails, conversing with employees, searching for files, etc. it will all be in one convenient location.
Author Bio:
Ishan Gupta is the CEO and Co-founder of RipenApps, a leading web and mobile app development company specializing in android and iOS app development. Deploying feature-loaded mobile & web app solutions to SMBs globally to transforms business all around the world.