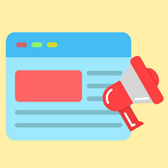 Recently the technology industry has seen a massive growth in the Software as a Service (SaaS) sector. But why is that? One reason is that many companies are opting to subscribe to a software instead of purchasing it or using an in-house technology team.
SaaS companies are experiencing a very competitive market. How can they stand out from the competitors? Content marketing. This will help SaaS Companies attract and retain customers to earn enough revenue to sustain themselves and grow further.
So, what is content marketing? Before we begin let's start with the basics and understand what content marketing for SaaS is—especially the benefits it could have for the business.
Understanding Content Marketing for SaaS
This marketing strategy works best as a long-term approach, and software companies need to use it to attract and retain a well-defined target audience. The approach involves SaaS businesses consistently creating and sharing high-quality, valuable content and other materials with the audience they have identified as their target. This creates awareness for the company and their brand which establishes them as an industry thought leader.
Benefits of Content Marketing SaaS
If you are wondering whether content marketing can help your SaaS company, we want to shed light on why you should give it some thought. Below are some ways in which content marketing can help SaaS companies:
1. Generates High-Quality Leads
Employing content marketing for SaaS companies has many advantages, one of the most significant ones is that it drives high-quality leads to your website. The higher the number of visitors visiting your website, the more opportunities you have to convert leads into customers.
As more potential clients seek solutions and are funneled to your website because your content is useful and answers their questions, search engines will notice your website has valuable information and rank your site higher in search results. The key is producing high quality content that will bring solutions to their problems or answer questions. When they discover what you offer can solve their problems or address their pain points, they will sign up for your software or become leads quality that you can eventually convert into customers. Partnering with experts like Rocket SaaS will help you develop your SaaS content marketing strategy.
2. Establishes Thought Leadership
To stand out as a thought leader you must create and share relevant and valuable materials. Sharing this will build trust and will earn customers who consider you a credible solution provider. This will set you apart from your rivals.
3. Enhances Customer Retention
Additionally creating new content geared towards keeping your current customers engaged and informed will make sure your company is on the top of their minds. The content should educate them on how to optimize your products in ways they may not be currently using them. The good news is that SaaS content marketing can help inform your clients and offer a way to get feedback from them—thus keeping the engagement alive. This can improve customer retention rates.
4. Builds Brand Awareness
People can't buy your products or services if they don't know it exists… so you need to create awareness. Creating new content marketing for SaaS, such as blog posts or videos is an excellent way introduce potential customers to your products.
Both potential customers and your existing clients remember your software. There's no better way to do this than to frequently share content to improve your visibility and enhance brand awareness. And the beauty of having high brand awareness is that any time the customer wants a solution your company offers, they start their search with your company.
5. Helps your Brand Have a Personality
Because of the nature of the products offered by SaaS companies, customers rarely meet their solution providers because everything is done remotely. They subscribe to cloud-based software and pay with just a phone call or a zoom and don't need in-person interactions. Unfortunately, this can mean there is no personal affinity between the customer and the software company. Given that people enjoy doing business with companies with which they have a personal connection, the industry needs to devise ways to give their brands a personality. Content marketing helps SaaS businesses to connect with clients at a closer level. This humanizes the brand, making the client relate to it better and enhancing retention.
Conclusion
SaaS content marketing is a powerful tool for software companies. Among its benefits is that it helps providers to reach and engage with potential customers, build brand awareness, establish thought leadership, and improve customer retention.