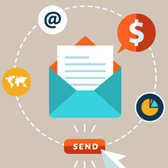 In the world of online marketing, there is a popular expression that "content is king". Useful and informative content is essential to selling your product or service. However, even the best content fails if it does not reach the correct audience. In the world of business-to-business marketing, you need your content to reach your the decision maker.
Targeted promotion of your content is an unspoken yet essential step to sharing your message and closing the sale. Effective B2B marketing involves placing your content in the hands of decision makers.
As with any marketing, the first step is determining your ideal customer, target market or goal audience. Many marketers like to create buyer personas to make it personal and effective. The strategy you take in creating content and sharing it needs to be personal to your decision maker.
Providing useful and original content generates more leads. If you offer quality information that speaks to the decision maker's challenges, needs, desires and pain point you earn a warm lead. The trick is reaching the decision maker at the right time in their buyer process.
Here is a brief overview of some outreach methods that help you reach decision makers at all points in the buyer's process:
Search Engine Optimization: For any online content such as your website, blog, or whitepaper SEO is an important outreach channel. Many decision makers start the buying process with a Google search. Using strategic SEO methods, you can attract the decision maker to you and receive a warm lead. Sadly, you have limited control over how search engines rank and present your content.
Email Marketing: Savvy bloggers and online marketers value mailing list subscribers over social media followers. People who voluntarily sign up for your list have expressed an interest in your product, service or expertise. Keep in touch with them using targeted messages.
Email Outreach: Don't underestimate the power of a well-written, targeted email message. Try sending a personal pitch to your desired decision makers with a well-crafted letter that acknowledges their needs, challenges, aspirations, and pain points. Some will appreciate your help in solving their problems and will want to see your content. At this stage, they become invested as they progress through the sales cycle.
Social Media Marketing: Effective use of social media reaches your potential and actual customers at every stage in the process. It also offers opportunities to communicate with large numbers of people. Remember to keep the social media social. Some marketers use social media to broadcast their message and forget to interact and engage with potential customers.
Telemarketing: Good old fashioned telemarketing can be a very personal and efficient method for generating leads and sometimes even closing the sale. It is still one of the most effective methods for reaching decision makers.
Direct Mail: With all the noise online, some decision makers prefer direct mail. The most effective mail addresses your decision maker's needs just like any other outreach strategy.
There are a few tools and methods that help. The best methods depend on your decision maker's preferences. Multiple channel approach is making use of more than one of the following: social media, search engine optimization, telemarketing, email outreach, direct mail, public relations and media outreach, and advertising. You don't need to use every channel, but the right combination will reach your decision maker at every stage leading to the sale and beyond.