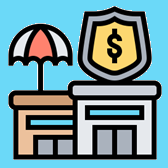 Insurance is often viewed as a safety net for businesses. The right coverage can pave the way to exciting new opportunities, especially regarding recruitment.
In late 2022 there was a hiring boom in multiple sectors. Still, businesses can't just hire anyone, and positions must be filled with the most skilled and capable workers available. Better talent may be more naturally drawn to larger companies, too.
Such talent will be in high demand, with many enterprises thinking along the same lines. Therefore, smaller and mid size firms must utilize every advantage at their disposal to attract better-quality employees. Great insurance coverage is one way to attract talent.
Here's how insurance can help businesses attract better talent.
Showcasing Responsibility
Insurance is often a legal obligation, with rules varying between states. Other types of coverage can be 'extra', not mandatory under law, but good to have all the same. Embarking on either route lets prospective talent know that your business is responsible. Even if you have things like property damage cover, it creates a consensus that you care about the business and will minimize disruption however possible, even in especially trying circumstances. The most competent firms are always prepared.
The best policies for small businesses can vary because each firm is so unique. However, The Hartford's services can help you find the best coverage and quotes with less stress. With their input, you'll know precisely what your business needs and thus stand a better chance of addressing potential employees' concerns.
Removing Tensions
The recruitment process can have a sense of underlying tension if you're recruiting top-tier talent. Not only must they prove themselves to you, but you must also prove that your company is a good fit for them, too. An incredibly talented prospective hire may enter every interview with a sense of scepticism. They may even have offers from elsewhere or at least know it's a matter of time before they will. Having the best business insurance available may give your recruitment process an edge that puts minds at ease and makes candidates more comfortable.
The subject of insurance can provide certainty. There can be less conjecture about what your business can offer the talented interviewee. Instead, there can be more fact-based discussions around the benefits of working with your company.
Improved Retention Rates
The best workers wish to work in a business with strong retention rates. These numbers can be telling of a company in crisis. Things like health insurance with mental well-being benefits have been proven to retain workers in recent times. By having these measures in place, prospective employees will know that they're being looked after. They may also feel better about the environment they're working in, as their colleagues will be properly cared for as well. It all creates a people-first work environment, naturally leading to better retention figures.
Remember, the best talent on the market looks for careers, not temporary work. They need to find a job opening to help them establish roots and commit to a business long-term. Insurance is one of the main ways you can ensure promising potential hires that there's a view toward longevity and ethics within the business.