Essential Resources for Specialists in the Digital Marketing industry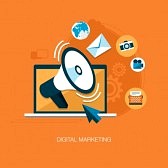 Online marketing is an extremely changing environment. Agents have to always keep up with the latest websites and tools for promoting the business. Fortunately, there are enough free resources meant to help marketers stay on top of this industry.
Next, we have handpicked and presented the best 15 online resources for digital marketing.
1. Hubspot Blog
HubSpot has been a real treasure for thousands of international companies along the years. It has helped them attract more and more readers and paying customers. The platform offers inbound marketing tools and counseling for growing the traffic of a website. The team has also developed a new feature, for effective sales.
Read the blog for free marketing tips that come into valuable articles like 7 Important PR Lessons Every Content Marketer Needs to Learn and 7 Customer Loyalty Programs That Actually Add Value.
2. TrendSpottr
TrendSpottr does a wonderful thing for marketers – it detects trending topics from social media like Facebook and Twitter, from blogs and other websites. Now, you just have to look for trends in your area of business and use them as hooks.
Users can share data directly from TrendSpottr, too. The important thing is to know what subjects are best to post for your company.
This place is just heaven for marketers. The platform offers tons of resources and training opportunities. Users can attend courses in the form of virtual or live conferences; they can follow podcasts and read articles on absolutely every marketing subject.
Furthermore, the team has created and posted SlideShare presentations with countless marketing tips.
4. Papersgear
There is one essential thing that all marketers desperately need – genuine and professional content. In this way, the SEO strategy will work for sure. Thus, investing in several boosting articles is a great idea. Papersgear is capable of delivering all sorts of texts, on every topic possible. The writers know the difference between an ordinary text and an innovative one, ready to attract hundreds of readers. They have years of experience and always complete flawless articles. This strategy will increase the share rate and the subscriptions.
5. eMarketer
eMarketer is well known for its clear and easy to understand reports on marketing aspects. The platform gathers data from international studies and then creates charts and graphics which can be understood from one look. Users have the possibility of subscribing to newsletters. Companies can get a corporate or enterprise account and gain access to valuable reports and predictions.
This is a platform dedicated to bloggers who write about all sorts of marketing strategies. By becoming a part of their community, you will learn impressive things about social media, PR, tech and branding.
Dan Zarrella has been one of the genius minds from HubSpot. He has a personal blog highly visited and read by marketers all around the world. You have to be patient, because he doesn't post new articles every day. However, every single text is a mine gold. Here are some examples: An Introduction to Memes and Memetics for Marketers, Introducing PicStats.com: An Instagram Analytics Tool, The Science of Instagram.
Heidi Cohen's personal website is great for beginners in this field. The author gives away essential and yet basic guidelines for social media, mobile marketing, branding and content marketing.
It is pretty easy to adapt data from her articles to whatever project you may be working at. Just take a look at 7 Types of Content Marketing Product Stories or 5 Steps To Prepare For The Social Media Revolution.
Marketing content from this website is indispensable. Marketo offers indications both on traditional marketing strategies – like email marketing – and on modern practices – like marketing automation.
If you have no ideas for new content, just visit the most shared and read articles from this platform. Observe the trends and get some valuable topics.
10. ReadWrite
Tech is a modern part of marketing. Find out all about it from ReadWrite. The website has an appealing design, displaying the latest news and data along with images on Home page.
The team covers all tech areas like web, mobile, cloud, social, startups, wearable objects, business tools, and hack news.
11. Marketing Sherpa
This is a research institute that offers all the info on marketing one may need. MarketingSherpa is crammed full with resources like videos, free reports, newsletters, articles and so on.
It posts insight on tons of topics related to marketing – B2B, emails, inbound marketing, entertainment and sports marketing, copyrighting, etc.
This is actually a community of people working in PR, marketing, and advertising. It is always a good idea to check others' strategies and way of thinking and acting. So sign up and see what your peers are up to these days.
13. Jeffalytics
This website belongs to the man who has created the Periodic Table of Google Analytics. The marketing section includes data on Google Analytics Customization, SEO Beginners Guide and Google Analytics Custom Dashboards.
The website contains info graphics, marketing guides and webinars. The content section includes articles like How to Use a Giveaway to Accelerate the Growth of Your Email List, How The Right Analytics Can Strengthen Customer Engagement and How to Squeeze Every Drop of Valuable Visitor Data from Your Forms (Without Complicated Programming).
15. Mashable
Mashable is the number one place to learn about internet and its features. The news are covering all possible topics and come in all formats – text, info graphics, video, photo graphics, and so on. Learn from the best and boost your content section!
About the Author :  Jessica Millis, writer and editor. You can see her writer's portfolio @ http://about.me/jessica.millis