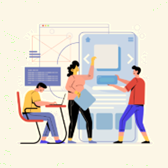 Today we are using the internet on our phones or tablets more and more to access the internet. To keep up with this trend businesses need to develop user friendly applications to satisfy their customers. In this increasingly competitive market, it's important to develop a great app to satisfy your customers.
According to a Statista report, there are almost 28 million android apps downloaded by users worldwide. The global app market is predicted to reach $935 billion by 2023.
The data shows that the future of android development is promising! Your business needs to have a well-designed app to keep your users happy and coming back to you.
Here's the latest trends that are defining the android app development market right now. Connect with an android application development company and discuss the details of how you can create or update your app across various smartphones, tablets, wearables, and even Android TV to make your users happy.
Now, let us get started.
The Future of Android App Development in 2022
1) Artificial Intelligence
Artificial Intelligence is a huge giant and plays a vital role in app development. It creates a better more personalized user experience by analyzing user data.
The AI market is going to reach $70.94 billion by 2023. This shows how important this niche is going to be.
As the technology continues to develop, better image processing with features such as Face Unlock and In-display fingerprints, etc. can be implemented to make things better to enhance the user experience.
2) Blockchain Technology
Blockchain is one of the most demanding technologies and can change the future with benefits like speed, privacy, and transparency, etc. Through blockchain technology, one can develop decentralized apps where assets can be tracked and recorded.
Business where customer privacy is a top priority, such as medical apps, payment apps, or stock apps are using blockchain technology. It's able to keep very secure records of data. In today's business world we run on information. So, keeping information safe is a high priority.
According to Global Newswire, blockchain technology will grow up to 52.5 billion by 2026.
So, are you planning to develop an app using blockchain technology? If yes, now is the right time to develop your app!
3) 5G Technology
In the telecommunication sector, 5G is the now the standard for wireless devices. Broadband and mobile devices are already enhanced with this technology.
5G technology was introduced by Verizon in 2019. Quickly other mobile carriers pick up on the technology and it's being further developed to benefit users with:
Speed
Connectivity
Bandwidth
Less Latency
4) Developing Instant App
Apps that allow users to try the app and run it without installing it on their devices is called an instant app. There are several benefits to creating an instant app:
Gives users access to try app without installing it
User-friendly UI/UX design
More storage for users as the app isn't installed directly on their device
More compatibility with various android devices
Developing an instant app, you can take advantage of multiple app development services online. This technology is quickly defining the future for games and businesses.
5) Chatbots
According to the latest data, 58% of businesses have implemented chatbots in their app, most of them belong to B2B businesses. In today's competitive market, customer satisfaction has become one of the most important elements. Increasingly customers and app users are expecting to use chatbots to interact with companies on demand.
Chatbots are a software application which is used to interact with users via text or text-to-speech. It helps customers with direct conversation through online messaging platforms. As more and more people reach out to customer support, it becomes difficult to answer every customer's query. There is where chatbots play an important role in answering many customer queries instantly.
If you are developing a business app, you can implement a chatbot for better customer experience. The response rate is immediate and available 24×7. Thus, it's a win-win solution for your app!
Conclusion
The android app development market is rapidly growing. These five technologies will help you stay ahead of the crowd in development. To implement any of the modern technology in the app, you can take advantage of android application development services.
Hope this blog has helped understand the future trends of the android mobile app development.
Soon, your app users are going to have a seamless experience when you upgrade to these technologies.