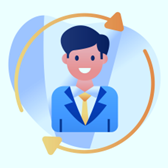 Employee retention should start at the recruiting phase, from screening to selecting potential applicants and pre-boarding. Many benefits come with employee retention, which includes improved employee morale, employee satisfaction, and increased employee performance and productivity, leading to an increase in ROI.
Replacing employees from time to time could cost a lot of money since you will need to spend on recruitment, training, etc. So, in this article, let's find out how to improve candidate retention whilst recruiting.
1. Promote Your Brand to Candidates
One of the most effective ways to attract high-quality employees is to promote your brand. But before that, ensure you have a reputable brand. If your brand is unknown in your industry, you will have difficulty attracting the best employees. Therefore, you must establish a brand and build a good reputation in your industry.
Once you have built a reputable brand, show what your business can offer. Pitch to your potential employees what you can do for them. Don't hesitate to discuss salaries, benefits, opportunities for growth, employee recognition, and other benefits they can gain from working for your company. The best employees will prefer to work for a company that is interested in helping them to develop personally and professionally.
If you want employees to stick around longer, develop a positive company culture. The main reason many people are leaving their jobs is that the culture in their workplace is toxic. So, when promoting your brand to potential employees, emphasize your company's healthy and positive work culture and your willingness to maintain this culture.
2. Use Value Led Recruitment
When selecting the right employees, think about what it is that makes employees great. Although skills, level of education, and experience are the key indicators of job performance, employers must also consider shared values. Look for employees who share your company's values. These are the employees who are likely to stay longer in your company.
Value-led recruitment is one of the most effective approaches to hiring the best talents. It requires selecting employees whose personal values, beliefs, and behaviors align with the company values. If the employees' values align with the company's work ethics, they will be happy to take on the new role and give their best. Value-led recruitment also helps to ensure that companies will hire employees who have the right skill sets and values. The strategy uses company values to attract skilled individuals.
Value-led recruitment has been around for many years, especially in educated-oriented industries. However, many new industries are now embracing the concept when hiring new employees because of its many benefits. Companies that adopt value-led recruitment implement the strategy in all aspects of recruitment, from posting job advertisements to interviews and staff training and management.
3. Use a Candidate Tracking System
Another strategy you can implement to improve retention during recruitment is using a Candidate Tracking System, which helps to streamline the entire recruitment process. It usually comes in the form of a computer software program that will manage the hiring process by collecting and sorting thousands of resumes.
Hiring managers can use the candidate tracking system to screen and keep track of candidates and their progress. By innovating the hiring process, employers can save time and money. In addition, the system helps streamline the on-boarding process, from sending out the offer letter to setting up payroll and introducing them to company systems. Automating your recruitment process shows that you are well-organized, which is a fantastic way to make a great first impression on new employees.
The candidate tracking system allows you to view all candidates at a glance and see patterns that can help make your future recruiting efforts more effective. It helps determine where to acquire the best talents and which job positions are not getting enough attention.
4. Use a Recruitment Agency
While various resources are available to help employers source and hire the best talents, using recruitment agencies can benefit you in many ways. The main benefit of using their services is that they can help you find employees who will likely stick longer in your company. These agencies are experts in recruitment and can match you up with the best talents in your industry.
Sourcing and selecting the best employees can be time-consuming. Recruitment agencies can take the burden off you, allowing you to focus on the more essential aspects of your business. Hiring a new employee will require you to sort through a thousand different resumes and narrow the list to only a few candidates. On top of that, you will have to conduct screening, interview, and go through the on-boarding process for every employee. You may not have the luxury of time to do all these. So, save yourself from all the hassles. Hire a recruitment agency that can effectively source, screen, and prepare the candidates before you conduct the final interview.
Since you will only focus on screening a few candidates that the recruitment agency will endorse, your recruitment process will be more streamlined, giving a great first impression to new hires.
5. Expand your Human Resources Department
Expand your HR department if you want to attract the best talents in your industry and improve employee retention. Human Resources play many essential roles that can help catapult your business to success. Using human resources specialist recruitment agencies is a great way to find employees who are responsible for the team's satisfaction, not only with their managers but also in their respective roles.
It's not easy to measure satisfaction. You need to build a strong HR team that can carefully create employee surveys, oversee focus groups, and implement an effective exit interview strategy to determine where the company fell short and what to improve. The HR department will determine the cause and reasons behind the employees' dissatisfaction and address the issues in the best way possible.
Your Human Resource Team can assess new hires to determine the best training needed for them to develop their skills and efficiently perform their duties. Proper training can also help improve employee retention.