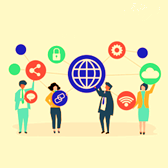 In today's fast-paced world, logistics businesses are under constant pressure to optimize their operations and remain competitive. One key factor that can help these companies stay ahead of the curve is data integration. In this article, we'll explore what data integration is, how logistics management companies can benefit from it, and how it can optimize a logistics business.
Data integration is sweeping across several industries, revolutionizing the way companies gather and view information. The data integration market stood at a valuation of $12.14 billion at the end of 2022 and is expected to cross $19 billion in 2026.
Logistics companies and supply chain executives have identified data analysis as one of the top priorities for technology investments. Big Data is a crucial part of Logistics 4.0 and data integration is crucial for Big Data.
Like many other industries, data integration can completely revolutionize logistics management as well. But before we dive into the benefits, let's first understand what data integration means for a logistics business. 
What is Data Integration in Logistics?
Data integration involves combining data from different sources such as software, platforms, and devices to create a unified information system. This unified system then offers a centralized view of all data points. This collective database is then used to define interrelationships between different data points to draw analytics and business intelligence.
For a logistics business, data integration can help centralize information sourced from supply chain management systems, inventory management platforms, GPS tracking systems, order fulfillment systems, and so on. This data can help gather important operational insights and key performance indicators (KPIs) such as:
Shipping Time
Delivery Lead Time
Capacity Utilization
Average Delays
Shipping Costs
Equipment Utilization Rate
Material Utilization Rate
Fuel Efficiency
Vehicle Fleet Performance
Average Dwell Time
Vehicle Turnaround Rate
Order Fulfillments per Day
Delivery Cost per Unit
You can use these insights to optimize several aspects of your company's logistics operations. Furthermore, integrated data can help you align logistics operations with other aspects of supply chain management. 
How Can Data Integrations Help Optimize Your Logistics Business?
The primary purpose of data integration is to generate accurate information about different aspects of logistics operations. It also helps you analyze how changes in one aspect can affect other operations.
As the industry rapidly moves towards Logistics 4.0, data integration serves as an important node in connecting various technologies with one another and informing humans about the performance of these technologies.
Below are a few ways to use data integration to improve logistics businesses.
Connect Different Logistics Operations
Through data integration, businesses can connect different logistics operations such as warehousing, packaging, shipping, order fulfillment, last-mile delivery, and so on. A single collective database will help businesses define the relationship between multiple operations. Based on this information, you can accurately predict the impact of one operation on others.
For example, you can measure the impact of eCommerce order fulfillment rate on the fuel efficiency of your vehicle fleet.
Improve Visibility
Data integration can help you gain visibility over several remote logistics operations. These include shipping, warehousing, and last-mile delivery. Real-time data gathered from task management software, inventory catalog, and GPS devices can tell you about the progress at each of these stages.
Businesses can utilize historical data from GPS tracking devices to find the ideal time and route for last-mile delivery in different locations.
Measure Performance
Measuring the performance of your staff, equipment, vehicles, and processes through data analytics is a big benefit. With data integration, gathering information from different sources and extracting KPIs is easy. These KPIs are insights into the performance of your logistics operations. It's easy to measure fuel efficiency against the number of completed deliveries and distance covered. This will assist you in estimating average fuel consumption per order fulfillment.
Get Forecasts
You're able to use data analytics to make predictions regarding various customer and operations-related phenomena. You can analyze past data to forecast future demand, delivery lead times, resource utilization, and so on. These forecasts can help you plan your logistics operations in deference to business goals and customer demands.
Using historical data, it's possible to estimate demand from different regions each month. Then you can align your resources to meet the expected demand.
Improve Customer Service
Data integration helps you gain visibility over the operations and make accurate predictions. This can help provide more accurate information to your customers about shipping status and expected delivery time. Additionally, you can use data integration to provide real-time updates about the shipping status to your customers. This will help you create transparency and build trust. Data from GPS tracking makes it easy to provide accurate time of delivery to your customers.
Improve Efficiency
Data analysis makes it easy for business to identify room for improvement in different operations. Tracking KPIs to analyze the performance and make improvements in areas where the KPI results are lower than expected is easy.
So much is possible with data analysis, you can also identify opportunities to reduce expenses. Or tell where your resources are under or over-utilized. Knowing this information, it's possible to reallocate resources for optimum performance and manage optimum inventory levels.
Enable Automation
Data integration can help you create automatic business workflows. Based on your requirements, you can use data points as triggers to initiate different tasks. This significantly reduces the burden on your operations. In practice, you can use updates on picking and packaging from warehouse management software to trigger dispatch schedules in delivery management software.
Inform Investment & Scaling Decisions
Data analytics can help identify problem areas that need more resources to function smoothly.  Or use data to forecast customer demands in different regions. Furthermore, you can gauge the impact of your marketing activities on customer demand in those regions. This will help identify ideal target markets for expanding your logistics business.
Conclusion
Logistics businesses can use data integration in a variety of ways to achieve different business goals. It can help make logistics operations more efficient, cost-effective, and even improve their customer service. Most importantly, data integration provides accurate information about the performance of logistics operations. This information can be the foundation for business investment and market expansion decisions.