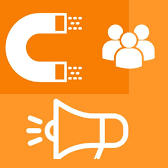 As everyone knows these days, "online marketing" – also known as digital marketing – is a modern form of promotion which involves the use of various digital channels in establishing business credibility, reaching new people, and converting potential leads into loyal and paying customers.
The continued rise of this strategy in the business world isn't that surprising anymore, considering how connected we are to the internet these days. According to statistics, there are over 3.9 billion internet users worldwide, and that figure is continuously rising. By taking advantage of search, email, social media, and other online platforms, businesses of any size and nature could reach a wider audience and engage new customers in scale that is far greater than what offline marketing can offer.
However, as easy as it may seem to access and leverage this strategy, seizing the seemingly limitless opportunities in online marketing also means that you must have a thorough understanding of how it works. As the old adage goes, "knowledge is power." And if you just started a business, having enough knowledge in online marketing can give you a significant edge over your competitors.
For a start, you should understand that online marketing comes with a lot of identical terms that are normally used interchangeably in countless blogs and by many marketing gurus. Some would prefer calling it "internet marketing," "digital marketing," and "web marketing." These terms might easily confuse some people. But in reality, they often mean the very same thing. We will use an all-encompassing term called "Online Internet Digital Web Marketing."
Now, in the world of online internet digital web marketing, the website is the main platform for acquiring high-quality "traffic"- that is the people who have a high potential of purchasing the products and services you promote online. If you will try to Google any brand that is highly successful nowadays, there is a high chance that they have their own website that features their brand, their offerings, and other crucial elements to convert a visitor to a customer.
More than just having a good design, a website needs to be filled with informative pages that can enlighten all the visitors about what you offer. Regardless of your industry or whether you provide goods or services, the goal is to make your website competitive and ultimately attract potential customers.
That said, online marketing isn't just about having a website – you need to optimize it and promote it through various online channels for it to attract and gain visitors.
The internet contains over a billion websites already so the question could literally boggle the minds of some novices in online marketing. Fortunately, there are several methods that can be applied in order to bring interested people to your site. And two of the most popular methods are inbound and outbound marketing.
Inbound and outbound marketing have the same purpose: to drive traffic to your website and convert those into loyal customers. If you want to learn more about these two online marketing tactics, check out this infographic by Landau Consulting: