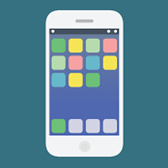 So you have launched an amazing app, with interesting features, and unique UI… But how many users are actually downloading your app? Are you satisfied with the number of downloads, the popularity of your app within the Apple and Google Play Stores?
Mobile app marketing is the next step to take after successfully developing and launching your native app. A precise mobile app marketing strategy is an absolute must if you hope to reach your target audience and achieve good download rates.
Whether you have already developed an app or on the way to get it built, you must know all the effective ways to promote your app and make it super popular.  With an aim to help you to achieve best results from your app and promote it successfully, here we are listing out 8 best tips of mobile app marketing.
Know Your Potential Audience
Ahead of starting the promotion of your app, you must know your target audience, so that you can better articulate the app purpose and benefits to them.  You must market the app content based on the requirements of the targeted audience. Your content should fetch the attention of users that are highly in need with such app. knowing the requirements and details of targeted audience will help you to deliver superior and apt content and thereby considerably improve the app shares and downloads.
Focus on App Design
For any sort of mobile apps, User Experience and User interface are the foremost things deciding the apps' ability to attract and engage users. Make sure the interface is appealing and user-friendly. Further, the app navigation should be easy and CTA buttons must be placed appropriately. Try to make use of minimalistic design rather than visual clutter with unhelpful space around the buttons and content. Visually striking app design attracts any kind of individual having a different opinion. Thus take your time and design an eye-catching app.
Use SMS Marketing
Though the trend of SMS seems to be wiped out, it is still an effective way of promoting anything as SMS are sent on the personal device i.e. Smartphone and addressed to important customers individually. Just select usual subscription rates for sending the amount of SMS to your customers. The investment you make will be worth it.
App Reviews
This is one of the best and effectual mobile app marketing strategies. App review platforms can help you to set profound and useful reviews, which are capable of drawing the attention of people, and make them download the app.  For this, you can send an app overview along with the app store link to app review platforms and request them for a review.  Most probably you will be asked to pay some amount for the review that is tolerable as this will bring you a considerable amount of users.
Don't Forget To Add A Button For Social Media Sharing
Generate interesting stories about your app or any user activity that the existing app users would like to share with their friends. This will also require you to add a share button in the app so that users can easily share the latest happening in the app. Further, you can also ask to share the app on social media with their friends and offer them some amazing reward points. This all will be possible with one sharing button, thus don't underestimate the power of a single button.
Go for Influencer Marketing
If you are on a good budget, then Influencer Marketing is the best mobile app marketing strategy that you can opt for. Many of the brand owners and marketing professionals have stated the extreme power of influencer marketing. Influencers having millions of followers can be very helpful to promote your app and get more and more downloads. You can reach to such influencers and ask them to promote your app with their social media profiles. For an instance, you can ask a personality having 5 M followers to post a message like 'I am making use of [your app name]'.
Perform App Store Optimization
App Store Optimization (ASO) is the SEO in mobile app marketing. For achieving the best ASO you need to focus on the app name that is just making sure it is unique enough and can catch the user attention. While writing app description or any content ensure to add relevant keywords whilst taking care of the 'keyword stuffing'. Also, make the app description clear enough so that it will articulate exact worth of your app and update the description frequently every time a new update is introduced.
Frequently Introduce New Updates
Updating the app frequently creates a positive impression on the existing users and fetches the interest of others to download your app. . Users appreciate your efforts of making the app better for them. Apps that are not paid attention and kept for a long time without any updates are removed from their app store. Also, users tend to give negative reviews to the app that haven't addressed many of their issues. Ensure to keep the app content fresh and facilitate users with interesting and enjoyable updates on regular basis. The regular updates help to get more attention for your app.
Conclusion
For an immense success of mobile apps, an excellent mobile apps development team and effective mobile app marketing strategies both are highly necessary. Without these two aspects, your app may not reach the height that you are dreaming of. If you are looking for a mobile app development company that will help you out with both these portions then contact us. We will provide you with a dedicated mobile app development team and best app marketing solutions that will help you to introduce a robust mobile app in the market and make it super successful.
Author Bio
Paresh Sagar is the CEO of Excellent Webworld – an IoT and web / mobile app development company that helps startups and enterprises to enable mobility solutions. Paresh is an avid blogger, consistently researching and writing content about the newest trends in technology.