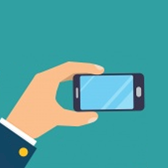 As of 2016, the estimated number of mobile users across the world was 4.3 billion people – or 58.7% of  the world's population. And while user growth is starting to slow down a little bit, the number of mobile phones in use is still expected to climb to 4.78 billion by 2020.
For most people, this is disregarded as a normal phenomenon, brought on by the rapid evolution of technology. But for many businesses, the immense use of mobile technology within global society has an equally massive impact on their sales revenue and bottom line.
The reality is, even in 2017, the influence of mobile technology continues to grow year over year. In fact, 84% of shoppers in physical stores use their smartphones to get information about products that they are considering purchasing – while at the physical retail locations. This has prompted a lot of companies to invest heavily in tools and techniques, ensuring that they market their products and services within this strategic niche effectively.
Check our this free infographic, compliments of Healthy Business Builder, as they take an introspective look into the different ways that mobile technology can impact sales, and business processes in general. More >>