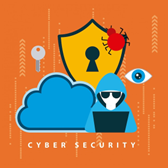 Digitally-savvy customers know the risks of sharing their personal data. They take various steps to prevent the misappropriation of sensitive information, following the advice of cybersecurity experts. They create strong passwords, don't duplicate them, and change them regularly. Some companies go so far as to purchase password managers and identity theft protection. They know how costly poor security habits can be.
But as a B2B business, you take on much larger cybersecurity responsibilities. You're not just protecting your own identity. You're on the hook for defending thousands or even millions of customers private data. Your concern also extends to every potential customer that begins a dialogue with you from your website. All the customer information you receive is subject to risk and it's your job to mitigate the danger. That's a heavy burden to carry. And an expensive one.
What's at stake when you fail to protect your customers' sensitive data? Let's look at what you stand to lose.
How Much Does Inadequate Cybersecurity Cost?
Consider the largest data breach to date. CAM4, an adult video streaming service, suffered a breach that affected over 10 billion customers. In CAM4's case, the information stolen from customers included their full names, email addresses, phone numbers, and payment logs. Stolen records also revealed users' sexual orientation and chat transcripts. Talk about personal! And dangerous. Customers affected by the breach are still at risk of blackmail, defamation, and public humiliation. You can bet that CAM4 customers abandoned the business in droves. Brand trust is the first thing you lose when you suffer a data breach. And brand trust is directly linked to your cybersecurity practices.
Brand trust isn't as tangible as dollars and cents. So let's look at the cost of data breaches a different way: how it affects your business's bottom line. A 2020 study by the Ponemon Institute 2020 found that a single data breach costs a company an average of $3.86 million. In 2022, that figure rose to a whopping $4.2 million. There's no reason to expect that cyber breach costs will plunge any time soon. That's why you need robust cybersecurity protocols in place.
Is Your Business Adequately Protected?
Effective cybersecurity doesn't come cheap. It involves paying for hardware, software, and an educated labor force. As serious and costly as the risks of inadequate cybersecurity are, you'd expect businesses to prioritize cybersecurity in their budgets. But you'd be surprised by how many companies don't.
Deloitte, considered one of the world's foremost risk analysis and advisory firms, has studied cybersecurity spending and compared it to other line items in the average business budget. It turns out that the average business spends just 10.9% of its IT budget—or about 0.48% of its annual revenue—on cybersecurity. The rest of IT spending goes towards network infrastructure, software licenses, consulting services, computers for individual contributors, and the like. Let's look at it another way. Deloitte's study also found that the average business dedicates more than 11% of its total revenue to marketing. Doesn't sound like cybersecurity is a major priority, does it? With total cybersecurity risks increasing and cybersecurity challenges changing all the time, now might be the time to examine your total cybersecurity expenses and consider increasing your cybersecurity budget to address the growing threat of cybercrime.
Does Business Insurance Protect You Against Cyber Losses?
In short, no. Don't be lulled into thinking that your company is covered for cybercrime losses by its business insurance policy. Standard business insurance specifically excludes coverage for the financial damage your business suffers as a result of being a cybercrime victim. For that, you'll need a specialized cybersecurity insurance policy. Such policies will reimburse you for the costs of notifying customers who are put at risk during a data breach, the legal fees you might incur when customers sue you, the cost of recovering data and fixing damaged equipment, and more. Cybersecurity insurance isn't even on the radar for many executives when it should likely be a line item in every business's budget. The cost of a cybersecurity insurance policy is negligible compared to the expenses you'd incur without coverage. You could buy a million dollars in coverage today for about $1,700.
What Does a Powerful Cybersecurity System Look Like?
First and foremost, effective cybersecurity begins with the first step in your customer journey and follows your customers through to the end. The end is when potential customers become loyal customers who trust your business.
A fully-integrated identity protection system for preventing customer identity theft will include such features as high-level of encryption, identity verification, two-factor authentication, electronic signatures, malware protection, and more. Many businesses purchase data protection packages that combine all these protections.
Best Practices to Adopt Right Now
You can protect your business and your customers' data by adhering to a few basic tenets of data collection.
Collect the minimum amount of information required to serve your customer. Don't ask for nice-to-haves in anticipation of your business's future needs.
Limit who has access to your data on a strict need-to-know basis. Review who has access to which data regularly. Be certain to disable privileges for any employee who exits your company.
Employ password management tools that force employees to practice good password hygiene.
Avoid creating data silos. You can lose track of data that way and may not even recognize when it has been breached.
Set high security standards for all applications and databases. Each time you use a new data management tool, check to see if its standard security features protect you adequately.
The Bottom Line on Your Responsibilities
We've considered the costs of poor cybersecurity, from the easy-to-quantify, like legal fees, to subtler costs like lost customer trust. But if you need one more reason to re-examine and shore up your cybersecurity capabilities, it's this: it's the law. Actually it's not one law: that would be neat, tidy, and much easier to understand. But we all know the government doesn't operate that way. Rather, it's your responsibility to adhere to a combination of hundreds of regulations issued by both federal and state legislative bodies and bureaucracies. In other words, there are lots of ways to get in trouble when you don't protect customer data.
A well-considered strategic plan will address cybersecurity and the specific role it plays in your business. Remember that everyone in your company is a cybersecurity stakeholder. So, take a collaborative approach to defining your goals and prioritizing cybersecurity education throughout your organization.
Author Bio:
Susan Doktor is a widely published contributor to finance and technology blogs worldwide. Her contribution comes to us courtesy of Money.com.