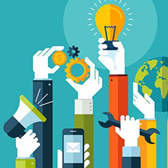 If you're looking to boost sales and attract new customers, you know how hard and time-consuming it can be. To let you in on a little secret… There is a simple and effective way to obtain a new audience – all while keeping your current customers happy and engaged. So what is this technique, you ask? Start a design contest!
Design contest require minimum effort, and at the same time, guarantee great results. They can stimulate online conversions and increase startup awareness (along with customer loyalty). Some good examples of such contests can be found here: https://www.designcontest.uk/logo-design/
As with any marketing instrument, these types of contests have their own set of rules to abide by. Continue reading, and use the following best practices to ensure that your contest is successful!
Define Your Main Goal
If you are trying to kill two (or even three) birds with one stone, it most likely won't work. Before you start a contest, define your main goal. This will help you to write a very specific brief – and also figure out a way to effectively identify the "winners."
Here are some examples of some common contest goals…
Generate additional leads
Increase your number of subscribers
Increase startup awareness
Increase your customer loyalty
Answer Three Important Questions
The result of your design contest has to properly target your bread and butter audience. To ensure that this happens, ask yourself the following questions before launching:
        Who exactly is your target visitor? Would he/she like the main theme of your contest?
        What does your audience actually want or need?
        Is your contest well enough related to your target audience?
Choose Your Contest Platform Carefully
To do so, answer these three simple questions…
Should you use a social media platform, or a special contest website?
Do you think that the platform you choose can accommodate the right design?
How much will running the contest actually cost you… And will the results even be worth the price?
Promote Your Startup Wisely
Any contest requires adequate promotion…
Be persistent – Make lots of announcements about the contest across various social networks.
Use analytics to define the best times for ad placement.
Pay for promotions – whether via SEO, SEM/PPC, or on various social platforms.
Change and update your ads regularly to keep things fresh.
In the end, if you do everything correctly, you'll likely achieve the following results:
Increased startup awareness
More leads generated for your sales team
Increased user conversions
An increase in customer loyalty
Author Bio
Brian Jens is an author specializing in modern technologies and trends. He currently writes for DesignContest.uk, and is involved with everything related to internet technology and web development.