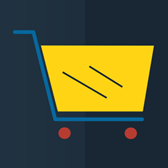 Choosing the right platform for your eCommerce business implementation is extremely important for both initial, and long-term sales success… So much so, that selecting the correct solution is a sure-fire way to help scale up your revenue. However, if you pick the wrong one, you could also end up with a poorly functioning website – yielding an online shopping script that offers poor user experience, and in some cases, even hampers the most basic needs for online sales success.
Among the top eCommerce platforms – like Shopify and Magento – there are always discussions that focus on the features and benefits provided by each CMS. While Magento has acquired huge popularity in recent years, Shopify is still a viable alternative, and the biggest competitor (to Magento) in the e-commerce market. After its most recent update, though, Magento may have repositioned itself on an even higher tier – making it the ideal solution for most eCommerce businesses, across virtually all industries and company sizes.
The article below, compliments of Jason Larue (PHPDevelopmentServices), has outlined some of the key benefits (and downfalls) associated with implementing each of the two enterprise eCommerce solutions mentioned; all with the hopes of helping your organization make the best possible choice when it comes time to make a final decision on which platform to leverage. Read on >>
Security
Security is the topmost priority for any eCommerce business. Magento Enterprise Edition and Shopify both are PCI compliant, however Magento EE in itself is a self-hosted platform, which, in turn, makes it important for the site owners to ensure that the data on server is secure. This calls for the sole responsibility of website owners to ensure that the data is secure. On the other hand, Shopify has a better solution to keep your website secure. Shopify offers great hosting packages which eliminates the burden of carrying risk of security breaches. Being level 1 PCI DSS compliant, Shopify makes sure all your data is secured with the same level of security as offered by bank.
For security, Shopify is generally recommended because it takes care of all security risks.
Coding
There is a huge dissimilarity seen between Magento and Shopify in terms of coding. Magento makes use of PHP whereas Shopify makes use of Liquid which is also a coding language. On one hand where Magento is open source in nature, Shopify is proprietary.
In open source coding, the source code is freely available and can be altered whereas this is not the case with proprietary. Magento makes it simple to alter specific store needs, however, this is not the case with Shopify.
Therefore, Shopify counts to be a great solution for simple stores, however with complex/advanced ones, changing the source code is crucial.
Inventory Management
With Shopify's starter plan, you can offer up to 25 store items whereas in Magento community unlimited number of items can be offered. This might affect the store performance including website load speed. With Shopify, the problem gets solved as it is a fully managed hosting solution.
Themes & Templates
Magento proves to be a better option over Shopify when it comes to choosing the right themes and templates. Magento allows retailers to make use of multiple themes and templates available on the marketplace and other portals like UberTheme, ThemeForest and so on.
Shopify also comes with multiple themes and templates which are both free and premium. However, Magento has better cost-effective options than Shopify. Shopify's premium themes come at a much higher price as compared to Magento connect.
Integration with Shipping Providers
Ecommerce purchases are directly shipped to the customer. Therefore, it is important to have a platform that seamlessly integrates with shipping providers. This helps customers view the current shipping rates and also allows your products to be shipped efficiently.
Magento's Enterprise Edition integrates with major shipping providers like Fedex, UPS, DHL, and USPS by using an app, Shipworks. Shopify integrates with all of these except DHL.
Shipping is a critical part, therefore, you need to ensure outlining the providers clearly before opting the right platform.
Design & Branding
A successful eCommerce store needs to have a distinctive identity that customers recognize and trust. Design is a sole part of branding.
Mobile friendly store is the need of hour and is also a crucial part of designing. Magento offers various themes that are responsive and can be used to create websites that function on a wide range of screen devices. However Shopify themes do not allow for any kind of customization. You can just change the colors and font with Shopify themes. This leads to problematic situation as far as store branding is concerned.
Magento's latest upgrade (Magento 2) comes with drag and drop visual editing that allows both techies and non-techies to draft appealing sites within a shorter duration.
Search engine optimization
The best way to ensure online sales and reputation management is having a store that integrates properly with topmost search engines. With SEO optimized product and category pages, you will be able to target those pages that generate the maximum sale or are of great interest for shoppers.
Shopify and Magento EE both promote the usage of page titles, independent links, meta descriptions, title headers, H1 headings to augment the store rankings on top searches. Both of them also have a functionality to integrate social sharing, blog posts that are highly important for SEO optimization.
The Final Verdict
Deciding the best platform is somewhat a critical decision. It all depends on the business requirements, budget set and the objectives for which the store has been started off. Shopify can be a wise choice if you have a store featuring around 80-100 products, however, if you are looking forward to developing a store with unlimited features, scalability and customization, Magento is the right choice. With limitless built-in features, Magento comes altogether as a great pick for eCommerce businesses.
About the Author
Jason Larue is a trained Magento developer at PHPDevelopmentServices, a PHP Web Development Services Provider. He has been offering custom Magento web development services to clients globally. Owing to a huge skill set and proficiency in the related domain, he has achieved successful results till now. In addition to this, he also likes sharing knowledge on Magento web development. This blog is one of his unique and well-written compositions aimed at delivering useful knowledge to readers.