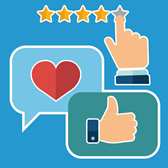 While most companies do everything humanly possible to generate and increase website traffic, it's seldom that they actually receive the desired results. Especially when it comes to posting blog content on platforms like WordPress – where they take the correct (initial) steps to implement necessary widgets and plugins, but still fall short when it comes to user interaction and onsite collaboration. Most of the time, the culprit for a lack of steady, consistent user traffic, comes down to little more that a few simple (yet important) things:
Interesting Content
Simplistic Navigation
Blog Responsiveness
Content Quality
Invasive Advertising
Website Performance
Overall User Experience
That all being said, we have put together a list of ten simple ways (and tools) to increase traffic, promote collaboration, influence responsiveness, and bolster overall user experience via your company's blog…
1.   Maintain an attractive and interesting website
The first impression of your website comes from WordPress theme, and if your theme is not good, then users won't stay long.
WordPress provides various appealing and attractive themes that even non-technical people can use with minimum efforts. However, sometimes these non-technical people choose the wrong theme that directly affects the look of their website.
Since the theme is the most important factor, non-technical users should get the website reviewed by a technical person. Even if you can't possibly ask a coder or website developer, ask as many people as you can to review your website. If these people think that the theme is good to go, then it's are okay. But if a considerable amount says against the theme, then consider changing it.
2.   Implement an easy and simple navigation mechanism
Just remember, you are not building a blog or a website for other developers or technical people. It should be easy to navigate through your website and in simple words, users won't stay if they can't find their way.
Consider following options for easy navigation-
Place logo on the home page and if possible, on every page.
Navigation system should be present on the top left or right.
Place navigation on all pages or across the whole website, don't leave even a single page.
Adding HTML sitemap can reduce this issue to a considerable amount.
3.   Have a responsive WordPress website
In this era of mobile phones, a lot of people use smartphones, tablets, and other devices to visit websites. If your website is not responsive, users will not be able to navigate it properly. This leads to a bad review and chances are some users may not visit again.
It is necessary to make your website responsive even before the launch, but if you have not done it yet then do it as soon as you can. Give your small screen users a reason to revisit.
4.   Maintain content quality
Everybody wants to read content that delivers some value, just keep your content informative and blog updated. Regularly posting quality content is a good exercise to keep users engaged and pull them back to your website.
Also, post content frequently because even if you are posting great blogs, not posting them frequently enough decreases user engagement.
5.   Get rid of broken links
Broken links are links that are no longer available or have been redirected to a new address, they may be links from your old posts. Check for broken links and remove them regularly because broken links decrease user experience.
If you never check for broken links chances are you may never find them, but that does not mean your users will never know. They are noticing and leaving your website in a sour mood. Act fast and remove broken links.
6.   Lessen your load time
On an average, users wait approximately 3 seconds for a website to load, if it is taking longer than that, then you need to fix it. Would you wait if a website takes too long to load?
Slow websites irritate users, and your Google ranking may drop. Browsing your website should be quick, fast, and smooth. For this, optimize images, enable browser caching, and do everything else possible so that your website loads faster.
7.   Use popup ads and forms (very) carefully
Many SEO people recommend popups and forms to engage users on the website and increase user base. But, this can also work the other way round if you do not take care of popups and forms. Google often decrease the ranking of websites that have too many forms and popups. Don't use too many forms, and make short and nice forms.
8.   Strategically place "call-to-action" buttons
While driving enough traffic to your website is one thing, converting this traffic into users/ subscribers is another. Call-to-action buttons increase user engagement and usability of a website.
Add call-to-action buttons for subscribing newsletter, redirecting to another post, or downloading an e-product.
9.   Create a secure platform
Websites that are regularly attacked observe a serious downfall in users, you may even lose some trusted users. Nobody will jeopardize their digital device for your website, so it is important to keep hackers at bay.
Use authentication, strong passwords, HTTPS, and other things to keep your website secure and develop user trust.
10.   Be sure to offer live chat
Live chat is the new trend, there are a lot of websites that offer live chat support, wherein you can chat online if you need assistance.
To give your customers an amazing experience and assist them in any query live chat is a great option. However, the person talking to your customers should be well-trained, an ill-informed support can ruin the experience.
Conclusion
The bottom line for any website to be successful is user engagement. If users are not getting a great experience, there's no point in spending so time much on your website.
Usability is a major part of any WordPress website design, so consider above points before making your website public. However, the quest does not end after the launch, you will have to constantly keep looking for security loopholes, broken links, and ensure content quality. Just consider it this way, development, usability, and content quality on a website all lay at the same level, hence, should be given utmost importance.
About the Author
Kiera Hayes is a passionate Blogger and Web Developer. She enjoys reading and writing articles whenever she gets time from her work.