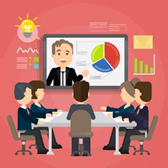 Creating online training courses for your employees is harder than it first seems; you need your employees to pay attention, invest their thoughts, and most of all get something useful out of the course. Otherwise, it will seem like a pointless exercise. Once you've created the perfect training, how do you promote it so teams will utilize the training and grow their career?
How Should You Promote Your Online Course?
Read below to find out some of the most popular online course marketing strategies:
Launch of Courses
First off, you need to launch your course! Posting it to your website or internal platform should be the first step you take.
Create Effective Commercials
Creating a beautiful graphic or video to demonstrate your course is a great way to get your employees curious and quickly inform them of what your course is about. Make sure to showcase how your course can solve a problem and will be useful so they realize why they need to take this course.
Post a Brief Instructional Video
Another way to incorporate a video is to create a brief overview or a summary of one of the points in your longer, paid training. This will get people interested and realize they need to take the longer course to learn more if the short instructional video is so impactful. Make sure to load the brief video with plenty of great tips but leave the viewers wanting more so they are willing to pay for the full training.
Proper Digital Connectivity
Creating your training in a variety of platforms will broaden the reach for each department and team. Every person likes to do trainings differently so making sure your class is in multiple formats will help your employees enjoy the in-house trainings. Weather your training is specifically for one person, or a class make sure everyone is included. You can make short videos, webinars with personalized instructors, recordings of webinars, or even lesson plans so the leadership can teach the class to a broad group of people.
Prompt Response to Inquiries
Students will have questions, it's super important to answer all the questions in a timely manner. Questions could come through in a variety of formats, so make sure you cover all your bases regarding answering questions. You want your employees to feel valued and it's always good "customer service" to follow up as necessary here!
Referral Marketing
Giving the employees a referral commissions is another great strategy to market your courses. This gives your pupils the chance to earn money while they are studying, just by referring you to someone else in the company!
Gather Student Information
Especially if the online class is for a group of students, make sure to get everyone's contact information! This way you can follow up to make sure they understand the course. In a classroom setting there may be a few people who would like to learn more and this is a great way to reach out and offer more in-depth training to help people further their careers!
5 Mistakes to Avoid When Marketing In-House Online Training
Here are some frequent mistakes to avoid when marketing online training courses:
1. Too Many Back-links: It seems like we all overstate the importance of back-links because it's the one part of the search algorithms we control. Even when content is not "live", this concern with cross-linking has crept into our trainings and our online training materials may contain several internal back-links. This is even more true for online courses with offline course materials. Thanks to internal hyperlinks, learners can access content without an internet connection. However, only use them when completely necessary and make sure your back-links are optimized with an "open in new tab" function. Minimizing back links keeps all the training information in one easy place for your students to find if they need to go back and look for something.
2. Missing Out on Social Media: People spend hours on social networking sites for professional work and or networking. Use this to your advantage by establishing training teams that target social media. Create an interactive platform to connect with class members on social media sites such as private Telegram channel, Facebook group, or WhatsApp group etc. With each class make sure there are rangers in each group who serve as judges in the background. Ensuring everybody takes part in the discussions by monitoring how much each person interacts in the group. Set a limit on how many posts and comments each student must make each day or each week by creating a quota.
3. Taking a Passive Approach: Send a regular emails to inform your employees of new or mandatory trainings. Just like in traditional marketing, consistency and follow-up are essential to successfully marketing your in-house online trainings to your employees. Get your staff's opinions, ask them to take part in development test phases. Host live events to increase interest and provide a way for everyone to keep informed. You can also hire Flutter App Development Services in USA, which can further help you with developing exciting courses.
4. Ignore Criticism: Requesting reviews from your own employees is equally important in an online course. Using automated analytics collection, anonymous survey administration, and pop-up feedback forms are all fabulous options. But in doing so you might receive criticism and it's important not to ignore or delete it, rather you should respect it. Ignoring negative feedback or criticisms can backfire. Ask targeted questions to maximize the value of employee feedback, and you can mix in some open questions with a more direct approach. Use this feedback information to improve trainings so everyone sees their opinions are taken into regard and acknowledged.
5. Not Involving Leadership: Generally, the leaders don't actively participate in the day-to-day marketing process. But that doesn't mean they should not be involved when it comes to in-house trainings. Department heads, managers, and supervisors should all be proponents to market the trainings and to your employees. Additionally, you can create online groups of other senior management so they can share their amongst their peers their experiences marketing to the employees.
Of course you can also hire any app development company like golang development company in USA who can provide you with further guidance.
Conclusion
The goal of internal marketing is to stimulate curiosity and encourage engagement so your employees will enjoy developing their careers. Remember to use backlinks wisely to prevent cognitive overload and utilize corporate social media groups. Feedback on training modules should be actively sought and your internal training marketing plan should be improved with employee feedback. You can hire any Android Application Development Services or iOS Application Development services who can guide you through the process of marketing your in-house online training.