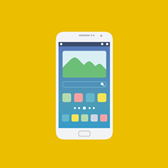 Did you know that every day more than 6000 apps are released around the globe? Some of these end up being extremely successful while others fall flat.
The success of an application highly depends on how fast it reaches the intended audience. One way to get your app released more quickly is with the help of a perfect pre-launch marketing strategy but many of us get confused about where to start or even how to build a marketing strategy.
In this article, I'll be discussing a few important and effective mobile app marketing strategies that can make your launch successful.
Steps To Follow For An Effective Pre-Launch App Marketing Strategy
Step 1 – Choose A  Release Date
When you choose the launch date of your application, make sure check for any similar event happening on that dates.  Also, Apple is stricter with the guidelines for the launch of an app and they take a lot time to review the app. Be sure you plan the release date accordingly.
Step 2  – Conduct Deep Market Research
One of the most common mistakes that lead to the failure of the app is lack of proper market research. You'll want to make sure that your app is addressing the potential user's pain point.  Understanding market need as well as similar apps that already exist can help set your app above others.  Identifying influencers and reading blogs and forums are a couple of ways you can conduct your research.
Step 3 – Build Landing Page or Website
Do you know that mobile websites are largely responsible for app downloads?  By creating an attractive landing page or a teaser video for your app you can boost your app downloads.  If you're going to build a website for your app prior to launch then make sure it is optimized for SEO as SEO will help you with the ranking of your website in Google Search Index. Your website or landing page also allows you to showcase positive user reviews, helping to build the trust of users and attract new ones.
Step 4 – Social Media Marketing Strategy
Social media sites are one of the best platforms for app marketing. Some of the most popular social media platforms that you can opt for app marketing are Facebook, Instagram, Twitter, Behance, and Pinterest. Social media platforms help you to directly reach your targeted audience. The things you need to take a note of while posting on social media are:
Make sure any links are kept up to date and are working perfectly.
Marketing content appropriate for the social media site.
Images that showcase the unique qualities of your app.
Step 5 – App Store Optimization
App Store Optimization (ASO) is crucial for success and increasing traffic for your app.  App Store Optimization is as important for apps as SEO is for websites. Things you need to take care for you ASO of your application are:
A proper and optimized description of your
Include the proper ASO optimized keywords in your description.
The logo is the face of your app so make sure to have an eye-catching logo for your application.
Step 6 – Content Marketing Strategy
I would recommend you to start blogging about your app months before the release date. This will help you to gain followers prior to launch. Write a few interesting articles which contain the details of your application. You can even write articles on the technology used to build your application to increase interest. Advantages that you will get with writing articles are:
Brand awareness and traffic.
You can use these blogs for email and social media marketing.
With the help of the content, you can build trust with potential users.
Step 7 – Paid Marketing Strategy
All the above steps were regarding the pre-launch mobile app marketing, but this last one is a post-launch marketing point. Once your app is launched and if you've enough resources then you can utilize paid marketing. Paid advertisements can be listed on any of the social media platforms as well as Google ads to help increase the visibility of your app.
Summary Points For Pre-Launch App Marketing Strategy
It's important to make sure you do not oversell. Don't over-promise anything as it can leave a negative impact on the users. We all know that word of mouth is the most effective marketing strategy and negative reviews can have a devastating impact.
Always make sure that your marketing strategy is interactive and dynamic so that users easily get engaged in it. A creative video or image works best. Keep analyzing the marketing trends to get the most out of your marketing efforts.
Author Bio: Mayur Panchal is the CTO of Excellent WebWorld and a Web & Mobile App Development Company. He is updated with all the latest trends in the mobile app technology field. He writes blogs that are helpful for businesses to implement technology in the operations. You will find him swimming whenever he is free.