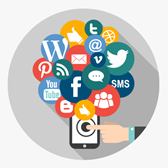 With more than four million apps available for download on Google Play and Apple's App Store, great marketing is the only way for companies to make their app stand out. While proper development does ensure an app's success – it's worthless if users don't know about it.
App marketing covers all user interactions, from the moment they find out about a product to having them becoming repeat customers. Effective business app marketing strategies involve discovering a target market, reaching them, and connecting with them. Once you have interacted with them, you can analyze their behavior and make improvements accordingly. In this guide, readers will learn the stages of a successful marketing strategy
Pre-Launch
The first stage in an app marketing strategy comes before a product launch; it's meant to build product visibility and brand awareness. The pre-launch is critical to acquire an understanding of the brand's positioning and messaging. This allows users to connect with your product on a much deeper level.
Market Research
A common pre-launch mistake is the failure to do proper market research. Before development begins, identify the biggest names your apps category. No matter how thorough a marketing effort is, if an app doesn't address users' pain points, it won't succeed. Find and research influential forums, websites, groups, and blogs visited by the app's target audience, as well as the influencers they follow. This step will help you find and acquire new users.
Release
Apple's review process is much stricter than Google's, which may delay some releases. Planning gives vendors and developers plenty of time to prepare for a hard launch and deal with any issues that may arise.
Optimize for App Stores
App store optimization or ASO involves optimizing an app's store page for higher search rankings and more conversions. Almost two-thirds of apps are found in direct app store searches. Once an app is highly ranked in searches for certain keywords, the effects can be felt for months afterward. The higher an app ranks, the more users will see (and download) it.
Retention
Most people focus on acquisition marketing, but all those efforts are for naught if no one uses the app. The next move in a successful app marketing strategy is to develop a retention plan to convert new users into loyal customers. Here are a few easy ways to increase user retention:
Remember that communication is a two-way street. Brands that use in-app messaging often see significant increases in user retention.
Use push notifications. When users opt into them, they tend to engage more with apps.
Giving users incentives goes a long way. Access to specialized content, mobile rewards, and coupons will increase engagement and drive conversions.
Solicitation of Customer Feedback
If an app is used constantly, it demonstrates a deeper connection. Give users the chance to offer their opinions by asking for reviews, but make sure not to do it in an obtrusive way. The more strategic these requests are, the more likely users are to offer positive reviews.
Follow These Steps for an Effective App Marketing Strategy
It's becoming increasingly clear that mobile platforms are a crucial component of a successful marketing plan. Companies must move beyond the idea of creating an app just to have one and strive for a greater understanding of the effects apps have on revenue, brand awareness, and in-store traffic. By following these steps, any company can build a solid app marketing strategy.