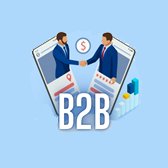 Last year, when the pandemic forced the closure of physical outlets and retail stores, businesses including B2B firms had no option but to accelerate their digital adoption, condensing their approach. While this was a challenge for the entire industry, the majority of B2B firms embraced this opportunity thanks to the changing buyers' preferences and increasing online orders. According to a McKinsey survey, around 80% of B2B buyers preferred digital interactions over traditional sale methods. This resulted in an explosion of omnichannel adoption.
The increasing demand for B2B eCommerce has stimulated market growth. For instance, the global B2B eCommerce market size is expected to reach USD 25.65 trillion by 2028, expanding at a compound annual growth rate (CAGR) of 18.7%. B2B businesses that rely on traditional sales methods, need to capitalize on the growing eCommerce trend by investing in off-the-shelf B2B eCommerce platforms. Alibaba.com is a prime example of B2B eCommerce.
What is a B2B eCommerce Platform?
A B2B eCommerce platform is a readymade solution designed with all essential B2B features/integrations built-in to start an online B2B store quickly. The solution must be reliable, allow scalability, customization, and ensure security for all users. In addition, a B2B eCommerce platform facilitates sales transactions between manufacturers, distributors, retailers, and other B2B sellers.
While there are several off-the-shelf solutions available for a B2B business, in order to ensure consumer satisfaction and a personalized experience, choose the right platform that meets your business requirements. Here, we'll discuss the five most prominent factors to consider when identifying the ideal B2B eCommerce platform.
Factors to Consider While Choosing a B2B eCommerce Platform
B2B buyers expect a shopping experience similar to B2C eCommerce websites. Here are some of the essential factors that you should consider while choosing a marketplace software for your B2B eCommerce website:
Hosted or self-hosted – Hosted solutions provide complete hosting, security, technical support, and more for your B2B store albeit at the expense of minimal personalization or customizability. Self-hosted solutions, on the other hand, allow complete personalization, source code ownership, and freedom to host your B2B eCommerce store on your choice of server. Shopify is a hosted solution whereas Yo!Kart is a self-hosted solution.
Built-in B2B Features – A B2B eCommerce platform must have all essential B2B features such as the Request for Quote (RFQ) module, bulk discount feature, minimum order quantity, and more. Such features/integrations are critical for B2B businesses to streamline operations and can be a decisive factor when choosing your ideal B2B solution.
Scalability – From making small design tweaks to integrating new modules/extensions, a solution must be flexible enough to allow necessary integrations without costing a fortune. Unfortunately, there are several online stores built on age-old technologies that require substantial development hours for even small tweaks/operational increments. Thus, it is imperative to select a B2B platform that allows scalability.
Multiple Payment Methods – An eCommerce solution must have multiple payment options allowing B2B buyers to make payments via their preferred method. These payments can either be paid in full or partially in installments. This creates a positive customer experience and can elevate your business reputation.
Technical Support – A business needs reliable technical support to resolve bugs and errors in the B2B eCommerce marketplace. While most solutions offer technical support for a considerable period, not every support team is reliable. Choose a platform with able technical support so you can focus more on your business and less on the technical side.
Below, we have listed the top 5 B2B eCommerce platforms that fulfill these requirements. Evaluate these options carefully and choose a solution that is capable enough to fulfill your end goals.
5 Best B2B eCommerce Platforms for 2022 – Features and Pricing
Yo!Kart B2B is an industry-leading B2B marketplace platform that comes with all essential B2B features/integrations right out of the box. The solution is highly intuitive, scalable, and fully customizable to meet your individual business requirements. It has separate dashboards for the admin and seller to streamline B2B marketplace operations. The world's first B2B diamond trading marketplace, UNI Diamonds, along with Bozinga.com and a Fortune 500 brewery firm are some of the leading B2B marketplaces powered by Yo!Kart B2B.
B2B Features:
Request For Quote Module (Accept, Reject, or Place a Counter Offer)
Different Seller Types (Distributor, Wholesaler, and Service Provider)
Multiple Payment Methods with the system pre-selecting local payment option as per select buyers' location
Internal messaging between buyer and seller, and more
Pre-integrated eCommerce APIs
Yo!Kart B2B pricing starts at USD 1999 for startups looking to start their online B2B marketplace. It is a one-time fee that includes a lifetime license, source code ownership, standard design, and up to 12-months of free technical support.
Shopify Plus is an open-source eCommerce platform solely built for enterprises to start a B2B or B2C eCommerce store. For B2B businesses looking to start an online marketplace, Shopify Plus requires third-party plugins from developers such as Webkul. The platform powers over 10,000 brands and comes with flexible APIs, omnichannel support, and more.
B2B Features:
Automate account signups for wholesalers
Review orders prior to invoicing
Avalara for real-time sales tax calculation
24×7 self-serve ordering and more
Shopify Plus pricing starts at USD 2000/month. This includes standard installation and integration. A variable fee is charged for higher volume businesses.
CS-Cart is another reliable B2B and B2C eCommerce multi-vendor platform for manufacturers and wholesale businesses to build an online marketplace. The platform is well-built, easy to install, and can be customized as per your business requirements. Also, it allows you to create multiple product variants, import thousands of products, and more.
B2B Features:
Hide products/prices from unauthorized users
Set personal prices for different user groups/buyers
Create multiple users in a single customer account
Quick and efficient re-ordering and more
CS-Cart pricing starts at USD 1,450 for startups looking to fast launch and test business ideas. This includes a lifetime license, unlimited storefronts, and 45 days of free technical support.
BigCommerce B2B is a prominent open-source eCommerce platform equipped with all the essential tools and integrations for B2B selling. The platform has partnered with BundleB2B – a specialized B2B enterprise software – to streamline processes for manufacturers, retailers, and distributors.
B2B Features:
Request For Quote (RFQ) feature
Manage or restrict access of users to payment options with payment method visibility control
Set up buyers' roles and permissions with corporate account management
Abandoned cart saver functionality and more
BigCommerce pricing starts at USD 29.95/month for the Standard plan, USD 79.95/month for Plus Plan, USD 299.95/month for Pro Plan, and Quote for Enterprise Plan. Also, BigCommerce B2B is essentially Enterprise Plan + BundleB2B.
WooCommerce is an open-source eCommerce plugin built on WordPress. WooCommerce uses third-party B2B extensions to create a B2B store. WebWizards, Addify, and Codup are some of the third-party developers that offer B2B plugins on WooCommerce.
B2B Features (in WooCommerce B2B Plugin by Addify):
Hide products/categories based upon user roles
Configure unique prices for different user roles
Restrict payment/shipping methods per user roles
Review and approve new B2B registrations manually
B2B for WooCommerce plugin is priced at $149/year while B2B eCommerce for WooCommerce by Codup is priced at $99/year. Each B2B plugin on WooCommerce comes with its unique pricing plans.
Conclusion
Whether you are planning to start an online B2B store or a B2B marketplace, a readymade solution is an excellent choice to kickstart your business. Carefully evaluate the B2B eCommerce platforms listed above and identify the ideal solution that meets your business requirements.