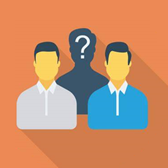 A good candidate is a large boon to your company, while the wrong one can be a costly mistake. That's what makes hiring a tricky business. Finding someone who is competent, qualified, adaptable, and enthusiastic can feel like a daunting task.
And to further compound matters, the people assessing each candidate might fall victim to unconscious biases that cause them to pick the wrong one. Unconscious biases don't mean that your hiring manager is being prejudiced against certain applicants, but it does mean that diverse candidates may slip through the cracks.
It's a common roadblock, as 79% of human resources professionals agree that hiring bias does exist in recruitment processes. Removing this bias can be a long undertaking. But since more people want to work for diverse companies and these companies are proven to be more successful overall, it's a worthwhile leadership goal for any business owner.
Hiring bias is any unconscious judgement that a hiring manager or interviewer makes based on their first impressions of the candidate. Typically, hiring biases are based on primary factors of a person's identity like race, sex, gender, age, or appearance. However, secondary hiring biases relating to identity markers like religion, parental status, physical ability or disability, or education may arise.
Usually, hiring bias isn't intentional. Unconscious biases can creep into the hiring process and cause interviewers to make unfair judgements on a person's identity rather than their qualifications or fit for the role.
Courtesy of Velocity Global, the following infographic will explore some common hiring biases (and how to spot them). More importantly, though, it will put your company on the road to bias-free hiring!